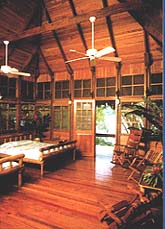 Hotel Address:
Next to Agujitas River
City:
Drake Bay
Province:
Puntarenas
Hotel Description:

This exotic and elegant native hardwood and bamboo inn is located next to what the National Geographic describes as "The most biologically intense place on earth". It offers the adventurers the necessary guides to see the area while the more laid back only have to look out the giant screened porches. All meals included in this hotels room rate.

Batman (Michael Keaton) was here along with 7 Nerw York Yanquee baseball stars in 1996.

Check-In Time:
Noon
Check-Out Time:
Noon
Time Zone:
Central USA
Daylight savings time observed at the area:
NO
Total Number of Rooms:
13
Type Of Rooms And Prices

Dreaming of hiking Costa Rica's world-famous tropical rainforest? Or is it scuba diving or warm water snorkeling that tickles you? Prefer fighting world-class sailfish from a state-of-the-art sport fishing boat? How about quietly kayaking up a jungle river? Or riding horseback through virgin wilderness pulsating with wild life? Ah, you just want to go bird watching, maybe see some monkeys along the way? Great!

Welcome to Costa Rica's Aguila de Osa Inn, a Rainforest and Marine Frontier.
FOOD AND LODGING

EXCITING DINING is an Aguila de Osa Inn trademark. Our distinctive cuisine is created with a uniquely tropical flair. Fresh seafood, pasta, tasty vegetables, and luscious tropical fruit, prepared with simplicity and originality are served in a comfortable, expansive atmosphere.

Our guestrooms feature hardwood floors, ceiling fans and private, tiled bathrooms. The cabins are situated on a bluff overlooking magnificent Drake Bay and the Pacific Coast.
JUNGLE HIKES
WALK INTO A WORLD of immense bio-diversity right on your doorstep. Trails cross orchid draped streams and wind through virgin jungle, home to a vast array of exotic birds and mammals. Howler and White-faced monkeys bound through the canopy. The Scarlet Macaw, Toucan, and Tanager are just three examples of the 300 species of birds indigenous to the region.
Guided tours of Corcovado National Park and CaŅo Island Biological Reserve allow you to further explore the magnificence of this rainforest frontier to its fullest.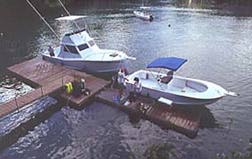 CA-O ISLAND and selected OSA PENINSULA coastal sites provide "unequaled parades of pelagic fish" (Skin Diver Magazine): clouds of fish literally block the sun's rays in the clear waters as divers penetrate the fish schools. Brightly colored tropical fish, snapper, tuna, grouper, mackerel, jack, shark, trigger fish, barracuda (typically in schools), manta rays, eels, porcupine fish, sea urchins, octopus, lobster, sponges, sea cucumbers, and other marine species are seen.
There are 15 or more types of stony coral species as well as the attendant coral eaters (starfish, mollusks, and hermit crabs). The terrain varies widely and includes 20' reefs, 50' underwater pinnacles, canyons, walls and caves. Visibility is good to excellent all year round; often marine life can be viewed 70' below the surface. Surface sightings include porpoises, Olive Ridley sea turtles, whale sharks, sea snakes and humpback whales.
CaŅo Island and the Osa Peninsula coast are a part of a mammoth (Rio Sierpe, Rio Terraba, CaŅo Island) marine ecosystem. More than one hundred thousand acres of mangrove wetlands and one thousand miles of fresh and salt water rivers, estuaries and tributaries interact with the Pacific ocean through tides which provide for an incredible abundance of marine life. This area of the Pacific is south of the trade winds and therefore characterized by gentle swells and breezes.
Rate for Diving - Certified Divers Only
Including Two tanks and all equipment $110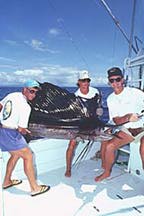 SPORTFISHING
Aguila de Osa Inn offers the most extensive fleet of custom designed sportfishing vessels available on the southern coast of Costa Rica. Built specifically for local conditions and keeping the fly fisherman in mind, these boats are property of the inn, insuring consistent quality of maintenance and performance. Three new 31' Palm Beach cold molded sportfishing boats, powered by Caterpillar 3116 turbo diesel powerplants and a 24' Palm Beach center console inshore boat powered with twin 70 HP. Yamahas offer the serious sport fisherman the widest options possible.
Rigged with state of the art equipment including a complete range of Penn and Shimano reels in all weight classes and specializing in Billy Pates fly reels, the on-board equipment will satisfy the most demanding angler. Rupp outriggers and a wide assortment of custom rods specifically designed for this area in all tackle classes complete the inventory of quality equipment. Aguila de Osa Inn hires only professional captains and crew to operate and maintain the fleet.
More than 40 world records have been registered within a 80 mile radius of the Inn; included are sailfish, black marlin, blue marlin and the occasional striped marlin, yellowfin tuna and wahoo are also found in abundance. Inshore species include large concentrations of roosterfish and cubera snapper. This unique combination of quality equipment, experienced crew and exceptional fishing provide the international angler with everything necessary for the ideal fishing vacation.
Full Day Sportfishing: Includes captain, deckhand, tackle, bait, ice
24' Garret (inshore fishing) $450 - 31' Garret (offshore fishing) $800
GETTING TO AGUILA DE OSA
Part of the charm of Aguila de Osa is that it can only be reached by boat or sea plane. The most common way of arriving is by taking a 45 minute scheduled Travelair flight from San JosČ to Palmar Sur, a short taxi ride to Sierpe and by boat to the Inn.
This final leg of your journey consists of a 25 mile boat ride, 21 miles along Rio Sierpe, viewing the mangrove forest, and an additional 4 miles on the beautiful Pacific.
During the boat ride you will discover the Sierpe-Terraba Mangrove Reserve, the largest in Costa Rica, with 54,000 acres. Often you will see White Faced Monkeys, Howler Monkeys, Caymens, and a large variety of birds and other wildlife.
WE'VE GOT IT ALL
NESTLED ON Drake Bay in the secluded Osa Peninsula, the Aguila de Osa Inn offers the finest in fishing, hiking, diving, and dining.
Our guests also enjoy kayaking, horseback riding, beach combing or just hanging out in a hammock. Enjoy nature at its finest and hospitality at its best.
HOTEL AND DINING PER PERSON , Includes 3 meals daily
Single occupancy
$160.00
Double occupancy
$125.00
Jr. Suite - 2 persons
$270.00
Suite - 2 persons
$300.00
Additional Person
$125 .00
Tax not included in room rates
*Children ages 4-12 receive a 50% discount on hotel rates when sharing room with 2 adults

TRANSFERS
Taxi (Palmar Sur / Sierpe / Palmar Sur) max. 4 pax
$50.00
Van (Palmar Sur / Sierpe / Palmar Sur) max. 7 pax
$70.00
Boat (Sierpe - Aguila de Osa - Sierpe)
$55.00/pax
TOURS
Jungle Hikes / Corcovado National Park
$75.00
Horseback Riding / Beach and rain forest
$55.00
Snorkeling / Archeological Hike CaŅo Island
$75.00
Scuba Diving
$110.00
Special Family Package - Combination Fishing (inshore),
visit to Cano Island (snorkeling) and Marine mammal watching
$650.00
Full Day Sportfishing: Includes captain, deckhand, tackle, ice, bait. On 31' Garrett. Maximum 4 fishermen per boat.
$800.00
Rates are per day and per person, except for fishing and the Special Family Package which is per boat.
We reserve the right of changing our rates without notice.
RESERVATION POLICY
A 50% deposit within 10 days of e-mailed or faxed reservations, balance 3 weeks prior to arrival. If deposit is not received, cancellation will be automatic. If an extension is requested, reservations will be assumed confirmed, and cancellation policies will apply.
Bookings must be reconfirmed by fax 30 days prior.
Lodging Type
| | | | | | |
| --- | --- | --- | --- | --- | --- |
| | All-Suite | | Condominium | | Villa |
| | Apartment | | Hotel | | Apartment Hotel |
| | Bed and Breakfast | | Resort | | Country Inn |
| | | | | |
| --- | --- | --- | --- | --- |
| Meals are included in the room rate: | Yes | | No | |
| Breakfast is included in the room rate: | Yes | | No | |
HOTEL LOCATION
| | | | | | |
| --- | --- | --- | --- | --- | --- |
| | Airport | | Resort | | Suburban |
| | Downtown | | Midtown | | Countryside |
HOTEL SURROUNDINGS
| | | | |
| --- | --- | --- | --- |
| | Business District | | In the Mountains |
| | By a Lake | | On the major highway |
| | By a Beach | | On the Beach |
| | Entertainment District | | Shopping District |
| | In the Country | | Suburban |
NEAREST AIRPORT TO HOTEL (International)
| | |
| --- | --- |
| Airport Name: | Juan Santamaría International Airport |
| Airport Code: | SJO |
| Distance and Direction from Airport to Hotel: | 145 miles south |
ALTERNATIVE AIRPORT TO HOTEL (National)
| | |
| --- | --- |
| Airport Name: | Palmar Sur |
| Distance and Direction from Airport to Hotel: | 38 miles southwest |
NEAREST MAJOR CITY OR TOWN
| | |
| --- | --- |
| City / Town Name: | Drake Bay |
| Distance between city and the hotel: | |
CREDIT CARDS ACCEPTED
| | | | |
| --- | --- | --- | --- |
| | American Express / Optima | | Mastercard |
| | Diners Club | | Visa |
| | Discover | | |
FAMILY PLAN
Children under 4 not advised
| | |
| --- | --- |
| Children stay free with parents in the same room under this age: | |
| Minimum number of adults required for children to stay free: | |
| Limitation on the number of free children: YES | NO |
| If there is, this is the total of free children allowed: | |
MEAL PLAN
| | | | |
| --- | --- | --- | --- |
| Meal Plan Code | Adult Rate | Child Rate | Meal Plan Description |
| | | | |
| | | | |
| | | | |
ADDITIONAL CHARGES
Children 4-12 pay 50% of adult rate
| | | | |
| --- | --- | --- | --- |
| Extra Person: | $110 | Rollaway Adult: | |
| Crib: | | Rollaway Child: | |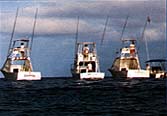 HOTEL FACILITIES
Air Conditioning
Fire Sprinkler System
Babysitting Service
Gift Shop
Bakery
Handicap facilities / access
Banquet / Meeting Rooms
Health Club / Spa
Barber / Beauty Shop
Ice Machine
Private Beach
Laundry / Dry Cleaning
Public Beach
Newstand
Bellmen
Non-smoking rooms
Breakfast, Comp Full
Pets allowed
Business Center
Indoor Pool
Car Rental Service
Outdoor Pool
Casino
Room Service
Coffee Shop
Safe Deposit Box
Concierge Desk
Turn Down Service
Connecting Rooms
V.I.P. Floor
Currency Exchange
Lending Library
Guest Elevators
HOTEL ACTIVITIES (within 2 miles walking)
| | | | |
| --- | --- | --- | --- |
| | Ballooning | | Island Cruises |
| | Bike Path | | Jogging Track / Trail |
| | Birdwatching | | Kayaking |
| | Boating | | Miniature Golf |
| | Bungee Jumping | | Mountain Biking |
| | Casino | | National Parks |
| | Cloud / Rain Forest | | Parachuting |
| | Deep Sea Fishing | | River Tours |
| | Ecological Trips | | River Rafting |
| | Fishing | | Scuba Diving / Snorkeling |
| | Game Room | | Sea Turtle Nesting |
| | Gardens | | Shopping |
| | Golf | | Water Skiing |
| | Golf Driving Range | | Tennis, Outdoor / Lit |
| | Hiking Nature Area | | Tennis, Outdoor / Unlit |
| | Horseback Riding | | Thermal Waters |
| | Ice Skating | | Volcanoes |
| | Indian Reserve | | |
IN-ROOM AMMENITIES
| | | | |
| --- | --- | --- | --- |
| | Air Conditioning | | Minibar |
| | Balcony | | Mirrors, Full Lenght |
| | Clock Radio, AM / FM | | Movies, Cable T.V. |
| | Free Coffee | | Free Newspapers |
| | Ceiling Fans | | Multiple Phone Lines |
| | Fireplace | | PC Data Report |
| | Heat Lamp | | Refrigerator |
| | Hot Tub | | Remote Control T.V. |
| | Iron | | Robes |
| | Ironing Board | | Safe |
| | Kitchenette | | Trouser Press |
| | Free Local Phone Calls | | VCR |
| | Microwave | | |
PARKING / TRANSPORTATION
| | | | |
| --- | --- | --- | --- |
| | No Parking | | Courtesy Car to Airport |
| | Complimentary Parking | | Limousine Service to Airport |
| | Charge for Parking | | Courtesy Car to Attractions |
| | Valet Parking | | Limousine to Attractions |
RESTAURANTS / LOUNGES
| | | | | |
| --- | --- | --- | --- | --- |
| Restaurant / Lounge Name | Hours | Dress Code | Cuisine | Price Ranges |
| Bromelia | 6 a.m. - 8 p.m. | Casual | International | All Included |
| | | | | |
| | | | | |
| | | | | |
| | | | | |
| | | | | |
---
[Home]
[Southern Zone Hotels]
---