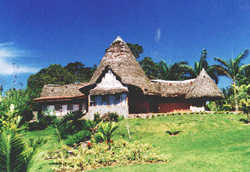 The Arenal Lodge
Arenal Lodge is located in the San Carlos area, three and a half hours driving time from San Jose. The lodge overlooks Lake Arenal and has a wonderful view of the active Arenal Volcano which features breathtaking eruptions and lava flows that can be seen glowing in the night.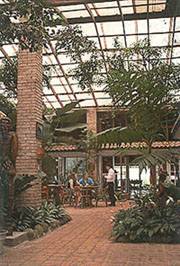 The main lodge features a sitting room, a small library with pool table, fireplace, jacuzzi, parking lot, bar and restaurant with a spectacular view of the volcano. The lodge has six standard rooms located in the inner patio of the hotel. Each has a private bath with hot water, one queen size and one single bed. Standard rooms do not have a view of the volcano, and are limited to maximum double occupancy.
There are also 12 junior suites and one large master suite. All suites offer private bath with hot water, two queen size beds (the master suite has one king, one queen and one single bed), and balcony with a view of the volcano. Junior suites are limited to triple occupancy, while the master suite can accommodate up to five guests.
Located just above the main building are 10 chalets with views to the lake and volcano. Each chalet has private bathroom, hot water, two queen size beds, balcony and it is equipped with two queen-size beds, a mini refrigerator bar, a microave oven and coffee maker.
---
Complementary Services

As complementary services we offer transfer to Tabacon hot spring,and mountain bikes.
---
Lake Arenal
Lake Arenal was formed in 1978 when the water of Rio Arenal were diverted to fill and stock what is today a 40,000 sq. acre impoundment. Water depth near the dam runs up to 190 feet; the water depth in the channels will run up to 120 feet. Water temperature varies less than 4 degrees Fahrenheit year round.
---
Sport Fishing
There are two primary sport fish in our lake. The Guapote (Chichlasoma Dovii of the cichclidae family) or more commonly "Rainbow Bass" because of its iridescent colors and the Machaca (Brycon Guatemalensis).
| | | | |
| --- | --- | --- | --- |
| Rainbow Bass | | | Machaca |
| The Rainbow Bass, which ranges in size up to 16 pounds, is a member of the ciclidae family which includs Peacock bass and Oscars. It will spawn all year round and is Central America's largest ciclidae. It can be found in fresh waters in Panama, Costa Rica, Nicaragua and Honduras. The same tackle used to catch large mouth bass will be sufficient here. Surface plugs, spinner baits, rattle traps, Rapalas, and occasionally deep jigging will produce big fish. Monofilament of 12-20 lb. is recommended with a "shock tippet" of 25-40 lb. Fly fishermen are advised to use rods 8-10 wt. with 9-ft leaders and large poppers, medium sized streamers in bright or lighter colors. | | | Machaca are flashy acrobatic fish which can reach nine lb. in our lake and 15 lb. in northern and coastal rivers. Rleated to the American Shad which frequents both U.S. coasts, Machaca are more prone to strike smaller and faster moving lures than guapote. Ultra light spinning gear spooled with 4-8 lb. monofilament is the rule, but remember to use a short shock tippet for these toothy fish. Fly fishermen should be using 8 to 10 wt. and 9-foot leaders and smaller (size 4-8) poppers and streamer. |
---
Catch and Release
Catch and release fishing is encouraged at Arenal Lodge. The live release of all larger male Rainbow Bass (4-10 lb) and all female fish will aid in establishing a stong genetic base which will provide an outstanding fishery for our next generations of fish and fishermen alike.
---
Boats & Tackle
Arenal Lodge uses 16-foot Mirrowcraft deep V boats with 30 hp Mariner motors and electric trolling motors. Each boat is configured with a large forward casting area and seating for 2 anglers plus the gude. Casting and spinning rodes with necessary lures are provided in the cost of the package. Anglers will be charged $5 each for lost lures.
---
Non-Fishing Guides
Feel free to ask your guide to demonstrate lure animation, speed of retrieval, etc. but don't ask him to fish with you. His job is to control the boat, help you with lure selection, and to aid in any way to insure a quality fishing experience. Remember to tip your guide in relation to his performance, service and helpfulness.
---
Fishing Season
As a general statement, low water levels are best for Rainbow Bass Fishing while rising and high waters levels mark an increase in Machaca activity and fishing quality. The fishing cycle is as follows:
| Month | Rainbow Bass | Machaca |
| --- | --- | --- |
| Jan - Feb | Good | Excelent |
| Mar - Jul | Excellent | Good |
| Aug - Dec | Fair | Excellent |
---
General Fishing Tips
Both Machaca and Rainbow Bass are structure oriented to standing timber and fallen trees, to sand and grass points projecting into the main body of the lake, and to rivers and river channels which feed into the lake. These are sophisticated, wary fish, so all noises and vibrations in the boat shold be kept to a minimum. At Arenal Lodge we regard 1-3 lb fish to be average, 4-5 lb. good fish, 6-12 lb. EL GRANDE!
---
Climate
Lake Arenal is located in a tropical zone on the Atlantic slope at 400 meters above sea level; the lodge is at 700 meters. Nitghts are cool (60 F) and days are warm (80-85 F) but temperatures are seldom oppressive. The rainy season runs from mid April through December but wet weather can also occur during the dry months.
---
Travel & Location
Arenal Lodge is located in peaceful Costa Rica, which is served by a number of major airlines (American, United, Continental, plus Costa Ricas's flag carrier LACSA). The lodge can be reached by vehicle from the San Jose, the capital, in 3 1/2 hours. The hotel can make arrangement for rental vehicles, airport and hotel pickup, round trip delivery to the lodge, and lodging arrangements for overnights in San Jose.
---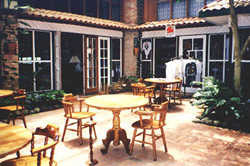 Round-Trip Transportation
San Jose - Arenal Lodge can be arranged
---
Other Activities
For the angler who wants to bring a non-fishing friend, buddy or companion, the area provides plenty to do at reasonable costs. Horseback riding can be arranged for the active outdoors person, while trails are available for hikers and explorers. Thermal mineral springs and pools offering soothing relaxation for bathers are located five kilometers from the lodge. A night trip to the volcano is an experience in itself. All-day tropical river tours are also available. More sedate pursuits such as butterfly and bird watching and wild orchid collecting are also possble free of charge.
---
RATES
High Season
Jan 18 / Apr 30, 2000
Jul 01 / Aug 31, 2000
Type of Room
Single
Double
Economy Room (no view)
$60.00
$65.00
Junior Suite
$96.00
$103.00
Chalet
$110.00
$117.00
Master Suite
$120.00
$130.00
Extra Bed: $20
These rates do not include 16.39% sales and tourism tax.

Low Season
May 1 / June 30, 2000
Set 1 / Oct 30,2000

Type of Room
Single
Double
Economy Room (no view)
$55.00
$60.00
Junior Suite
$70.00
$78.00
Chalet
$85.00
$96.00
Master Suite
$98.00
$110.00
Extra Bed: $20
These rates do not include 16.39% sales and tourism tax.
Christmas Season
Dec 20,2000 / Jan 17,2001
Type of Room
Single
Double
Economy Room (no view)
$68.00
$75.00
Junior Suite
$128.00
$134.00
Chalet
$144.00
$151.00
Master Suite
$162.00
$176.00
Extra Bed: $20
These rates do not include 16.39% sales and tourism tax.
---
[Home]
[Northern Hotels]
---