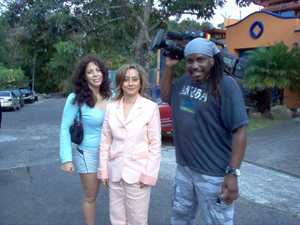 Angela Jimenez with film crew of House Hunters
HGTV

House Hunters asked around for a buyers broker in Costa Rica and sent this
crew and director down to film Angela at 3 locations (Avalon, Vivicon at
Lilia, and Prados Oeste)

Angela uses her experience of 22 years to make sure the buyer understands
the market in Costa Rica and does not overpay
From:Angela Jimenez Rocha
To: A.M. Costa Rica
Sent: Monday, Aug. 24, 2009
Subject: Despite funk, country well situated for rapid, positive upturn


Since Henry Kaufman is back in the United States, I have had some time to reflect on his constant use of the term black swan.

This concept was made famous by the well known Nicholas Nassim Taleb, professor of risk at New York University, who has made a great impact on the financial gurus around the world. He predicted while speaking at the Royal Society of Arts in England extreme scenarios which can easily lead to hyperinflation. He was quoted as saying "Give me a regulator, and I'll show you a way to make money." "Regulation is not a panacea, its dangerous."

After being in meetings with Kaufman and many of the large developers in Costa Rica for the past several months, I have tried to understand why most of them are having such a hard time finding liquidity. Of course the normal sources of finance have tightened the purse strings and many never say no to borrowers just never say yes.

There are so many uncertainties in the world outside of Costa Rica that we may wake up one day and find we are one of the few places in the world disconnected from most of these problems. I know that many in Costa Rica are in a blue funk wondering how they will ever become liquid again, but there may be a rosier future ahead than most believe for our tiny country.

In my business of appraisal of property over the last 23 years, I cannot afford to be a Pollyanna since I am responsible to the banks for the values I write on these reports. However there is one tried and true way to determine fundamental values: Add up all the living spaces in the country and determine how much rental income this will produce. Determine a value for inflation and discount the cash flow.

Now to the rosier picture. Imagine serious unstable conditions in the rest of the world like war in the Middle East or global warming having a drastic effect or the aquifer in Florida becoming too salty to function. A small fraction of those people coming to Costa Rica could create a serious shortage of rental properties driving up the values overnight. In some minor aspect this has already occurred with the exodus of Venezuelan rich. Some of whom have bought property they keep vacant as Plan B.

I keep a constant eye on the rental prices especially in Escazú and Santa Ana as an index of how to access current values. Rents have softened in the past few months and I believe a large reason for that is that the influx of retired persons from North American have put off making decisions. Any change in the psychology of these people can have a dramatic effect very quickly in this small market.
From:Your daily English-language
To: A.M. Costa Rica
Sent: Wednesday, Jan. 14, 2009
Subject: Most of real estate market does not involve Gringos


Dear A.M. Costa Rica:

With all due respect to your readers opinions sometimes they forget 95 percent of the real estate market is not made up of fancy houses in Escazú and Tamarindo nor luxury condos in Santa Ana or these new projects planned by the Forum and the Sabana Park.

The fellow who wants to know sales data at the national registry will find it very hard going since most people still do not declare the real values. Local municipalities are now making a greater effort to pressure owners to declare real values for their properties. I recently assisted my own attorney in visiting the muni to check to see if he had to declare his house. He was overjoyed that he still had a year before he needed to do so. The rule here in Escazú is you are required to file a declaration every five years.

Now in order to judge an overall change in prices, it would be best to start at one of the two government authorized mutuals whose function is mandated to assist in housing loans not commercial loans. Since I handle many appraisals for one of the mutuals I can tell you that things are slower. The upscale housing market represents just a tiny fraction of the entire real estate market in Costa Rica. Most of these properties are cash deals or some mixture of owner financing at this time. I have written in the past that there are many ways to value property, but in my opinion the best one and most realistic is the cash flow analysis.

Take a condo that rents for $900 month and whose owner wants to sell it for $100,000. Does this gross return of 10.8 percent make sense in a market where U.S. 30 year treasuries are yielding very little. I watched in amazment when a local private bank makes an appraisal on an almost identical unit at $176,000. Does this gross return of 6.14 percent make as much sense to you, given the fact that we cannot assume prices will continue to go up?

I have been asked to do a valuation on some land which includes a hotel in Guanacaste next week. The lender is interested in the land values, but I tend to look at cash flow potential not just comps, which is where too many real estate agents live in their heads.

Before everyone gets depressed, our strategic analysis of the future of Costa Rica over the long term is very bright. The wave of baby boomer retirees will one day make people very happy. There are only a few places in the world they can go, and Mexico is not one of them. So all of you owners who are not overextended, just wait. Incidently, we discussed this with someone who owns 30 percent of downtown Tulsa, Oklahoma, recently who agrees with us.
Angela Jimenez Rocha
certified appraiser
orbitcostarica.com
Escazú
CERTIFIED APPRAISALS BUILDING INSPECTIONS
Lic. Angela Jimenez Rocha(Architect) contact info 88271314 or 83301035 mail@orbitcostarica.com
21years licensed appraiser
BANVHI--Costa Rica Government Agency( similar to FannieMae or Freddie Mac)
Mutual LaVivienda--this is like the old savings and loans in the states but they are still solvent unlike the states. Now merged with Mutual Alajuela and is largest government authorized S & L in Costa Rica.
Arbitration expert for the College of Engineers and Architects
Formerly on Board of Directors of the Regimen de Mutualidad Colegio Federado de Ingenieros y Architectos
Formerly Treasurer of the College of Architects
Licensed with the College of Architects and Engineers
for21 years
designed and technical inspection of everything from simple
$10,000 houses to additions to the main cathedral in Cartago(certainly the most beautiful one in Costa Rica)
She also is avid student of Feng Shui for all those California Naturalists and Macrobiotic Students
Completely Bi Lingual
This lady has done over 12,000 appraisals in Costa Rica and knows the ground like hardly anyone in this country. The most important item here is the ground. Find out from her what the local conditions are for perk tests for septic tanks, foundation stability, electrical service, water pressure in area, other utility services(Costa Rica is not like the states-utility service is spotty in places---like the 12 million dollar house on top of one mountain in Escazu that has no water pressure)
Typical costs for appraisal of a house under 1000 sq ft in central valley $250
every 1000 sq ft after that is extra depending on size
if outside central valley add $50 per hour of travel time (plus lodging and food if overnight)

THIS MAY BE THE BEST INVESTMENT YOU WILL EVERY MAKE
SHE CAN MAKE ARRANGEMENTS FOR ENGINEERING INSPECTION FOR SIMILAR COSTS
Contact her at 011-506-88271314 or 83301035
local 88271314 or 83301035
Harold:
You and Angela have done a wonderful job!
I want to thank you for all the work, the comprehensive report, and the photos. Everything is very, very professional.
In fact, I may ask you to review another coffee farm property in the same area as soon as I can find out who is holding the land documents ( Plano Catastrado, etc.)
Thank you again. I will write to you again in a week, once I learn more about the next property.
Best regards,
Cal Izard
Hello Angela We had a wonderful time with you.
Thanks for all of your help. You gave us so much to think about. We are interested in having you take a look at the properties in Punta Uva. I have all of the contact info, and will send it to you shortly. If you could look at the hotel on the beach and take a quick glance at the house and plot of land next to the hotel, as it is also for sale.
We are also quite interested in the plot of land on the beach. Just send us the account info and totals so we can send you some money. I will be in touch soon.
Thanks again, J.T.
Jason Ciello
Burlington, Vermont
ANGELA HAS BEEN QUOTED AS EXPERT NUMEROUS TIMES
BY LA REPUBLICA" JULY 5, 2004, PAGE 4
ON INVESTMENT CRITERIA, CONDO CONSTRUCTION, ZONING, RENTAL PRICES AND HAS BEEN APPOINTED INSPECTOR BY THE COLLEGE OF ENGINEERS AND ARCHITECTS TO INVESTIGATE DISPUTES FOR INSURANCE CLAIMS
REPRINT FROM TICO TIMES FEB 27, 2004
SPECIAL YEAR IN REVIEW REAL ESTATE SUPPLEMENT


CENTRAL VALLEY PRICES VARY BY AREA

Real Estate appraiser Angela Jimenez says prices are rising faster than they should be in some areas of San Jose.

The asking price for a 2000 sq. ft . two bedroom two bath condo in a gated community in Escazu would average $200,000 while the same condo in San Pedro on the east side of San Jose would be $150,000 and in Heredia on the north end $90-120,000 and in Alajuela about $10,000 less than Heredia.

Escazu is and has been by far the most expensive and popular place to live for citizens from the United States. Construction of new condominiums in Escazu and Santa Ana, further west, has been booming, Jimenez said.

She said she is worried about the effects so much development will have.
"I can tell you that in Escazu something is going to happen in the short term with so many condominiums being built. I don't think the services are being taken into consideration--traffic, water, municipal services..." she said.

Prices in Escazu are generally 50% higher than elsewhere, Jimenez said. For example , $100,000 can buy a 1,600 sq. ft . home (150 sq. meters) on a 3,230 sq. ft . (300 sq. meters) lot in Sabailla, Heredia, Ciudad Colon and Alajuela but in Escazu a similar property sells for $150,000. A 2,150 sq. ft . (200 sq. meters) home on a 5,380 sq. ft . (500 sq. meters) lot would cost $200,000 in the other neighborhoods and $300,000 in Escazu.

When it comes to paying for land, the more you buy the cheaper it is, Jimenez points out. For example in the hills of Escazu, one could expect to pay $50 per sq. meter for a piece of land measuring 5,000 sq. meters but a property that is more than 9,000 meters you could expect to pay $25 per square meter.

The cost of homes in Costa Rica varies widely not only because of the land, but because of the wide range in price and quality of the materials used, Jimenez said.
TICO TIMES OCTOBER 7, 2005 by Amanada Roberson Tico Times Staff Writer
HOME INSPECTORS HELP GUARANTEE QUALITY
When making a big investment in buying or building a home, you should make sure you are getting exactly what you want for your money. Building inspectors can help put your mind at ease by going over a house with a fine-tooth comb to make sure each nut and bolt is in place. Aside from giving you peace of mind, hiring an inspector can prevent expensive and time-consuming problems in the future.
Many inspectors are architects or engineers who are very familiar with Costa Rica building codes and good architectural practices. Inspectors and architects in the country can register in the Federated Association of Engineers and Architects, a professional organization that sets standards within the building industry. When hiring an inspector, CHECK TO SEE THAT HE OR SHE IS A MEMBER OF THIS ORGANIZATION.
Inspector and architect Angela Jimenez offers inspection services for both potential buyers of existing homes and builders of new homes.
When inspecting a building project, she works with her team of civil engineers to visit the site on a weekly basis(often 3 times week) throughout the process. She begins by reviewing both building plans and the permit each home builder must obtain from the municipality in which the lot is located. Failing to adhere to standards established by the municipality, which include zoning regulations dictating how far the house must be located from the street and standards for the design of the house, can result in fines (or worse a stop work order) Jimenez explained.
During visits to the building site, inspectors check to make sure the right materials are being used and plans are carried out correctly.
JIMENEZ SAID ONE OF THE MOST COMMON MISTAKES SHE FINDS DURING INSPECTIONS IS INCORRECTLY MIXED CEMENT, which can later result in a house's foundation sliding or major damage in the event of an earthquake. She also checks to see that electricity is wired correctly.For inspection of a building project Jimenez charges in increments during different phases. A total of 10.5% of the house value is chargedin installments of 1.5% during pre-project design, 4% during planning and 5% during the building process.
Jimenez's clients also include potential buyers who want inspection of a house on the market before closing a deal. She checks out the quality of the concrete foundation, pipes, drains, septic tanks and electrical wiring to give customers a diagnostic of the overall condition of the house.
Prices for this service range according to size of the house, beginning at $125 from homes in the San Josearea.
Tico Times February 23, 2007 page S-20
HOUSE HUNTERS FILMS EPISODE IN COSTA RICA ' WITH ANGELA JIMENEZ
By Amanda Roberson: Tico Times Staff
Angela Jimenez is a big fan of the TV show "HOUSE HUNTERS"; in fact along with Rachel Ray's cooking show, she watches it almost every night. As an architect and real estate agent ( Buyers Broker ), she fascinated by the show's reality-TV format in which the camera follows a couple through the process of choosing and buying a home.
So when Home and Garden Television's ( HGTV ) "HOUSE HUNTERS" contacted Jimenez about being on the show, she didn't have to think twice. The 20-year veteran of the building and real estate business knew she was in for an adventure.
The producer were looking for a nontaditional real estate agent, and they found Jimenez thru her web site, www.orbitcostarica.com, she told Tico Times during a recent interview at her home office in the western San Jose suburb of Escazu.
An architect by training, Jimenez gained experience as a building inspector for the National Housing Mortgage Bank ( BANHVI ) reviewing houses built with bonos, or government housing grants. Now she works for clients independently, with a team of civil engineers who review building plans and permits to make sure builders adhere to zoning regulations.
She watches out for common mistakes made in construction here, such as incorrectly mixed cement and faulty electrical wiring ( Tico Times October 7, 2005 article about Angela' work ). For those looking to purchase an existing house, Jimenez inspects the quality of the concrete foundation, pipes, drains, septic tanks and electrical wiring to give clients a diagnostic of the overall condition of the house.
"I try to go beyond just real estate and make sure everyone knows about maintenance requirements, laws and quality so they have a lot of information," Jimenez said.
This is a late "thank you"for the excellent work your home inspectors did for us on our home in Playa Hermosa, GTE.
Your inspectors were prompt, capable and efficient. They uncovered electrical flaws that I personally would not have been able to discover before moving in. They were also "muy simpatico".
There was one item in their report that I did not understand. It was remark 3 at the end of the report. Could you please explain this remark in further detail?
I have taken the liberty of recommending you to an acquaintance from New Jersey who is also building a home in Playa Hermosa. His name is Scott Havard, and he will be contacting you when his house is nearing completion -- probably early next year.
From: "Paul Avalone" <paulie603@hotmail.com>
To: <mail@orbitcostarica.com>
Sent: Tuesday, July 03, 2007 10:33 PM
I recently retired to Costa Rica and rented sight unseen by email a wonderfull condo in Avalon in Santa Ana from Angela and Harold of Orbit Travel. They did exactly what they promised and their advice thru the months has led me to the paradise I hoped for in Costa Rica. Angela especially is an expert in all aspects of real estate and is a well know certified appraiser for the banks in Costa Rica. They referred me to an attorney who handled all my needs in obtaining all the documents I needed to live here. If you need any more info you can call me at 203-4028. Best time to call is afternoon or night since i spend my mornings in the pool at the condo.
Paul Avalone
former unhappy resident of New York City retired from the rat race at 56.
PHOTOS OF ANGELAS CONSTRUCTION AT MANGO PLANTATION

LIC. ANGELA JIMENEZ ROCHA ARCHITECT
Angela has overseen the building, design, and inspection, and the paperwork for the permits of two condo projects for me over the past few years. She has done a great job at reasonable prices. Anyone that needs references call me at country code 506-2215-1508 or 8392-5150
Juan Carlos Baldizon Navascues Escazu Costa Rica
REPRINT FROM AM COSTARICA OCTOBER 30,2207 VOL 7, NO. 215
COSTA RICA'S ENGLISH ON LINE NEWSPAPER
An A.M. Costa Rica guest commentary
An experienced appraiser addresses issue of property value
By Angela Jiménez Rocha*
Special to A.M. Costa Rica
After 22 years of watching prices and preparing many thousands of appraisals for the banks here along with private clients, I am amazed at the increase in prices asked at the
<![if !vml]>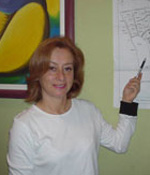 <![endif]> Angela Jiménez Rocha
current time. However, the trend seems to be going up, and the construction costs from well known, reputable builders also have risen greatly.

If we consider the Central Valley, especially areas like Escazú and the newly hot area of Santa Ana, the price per square meter for nicely finished condos with amenities and security is $1,100 and up. For something like a Trump Tower lookalike, the price is now $2,000 per square meter.

Today it is hard to find raw land for $100 in decent areas in the Central Valley, and many developments are asking $150 to $200 per square meter for land. One of the well known golf course communities was $50 meter 10 years ago and now $250- to $300. 10 years ago Santa Ana was a sleepy little town where land prices were $10 to $30 a meter. Today it is booming with new condo developments where land is $150 a meter.

We are owners of condos and also an adviser to Avalon, which is one of the great, new condo developments in Santa Ana. This developer has had such great success that people are standing in line to snap up any new project he has in advance of construction. For most of the new projects buyers are asked to put up 20 percent for pre-sale before construction starts. This is a risk unless the buyer checks carefully who the developer is and makes sure there is a fiduciary or bond to guarantee completion.

But why is the demand so great? Costa Rica really has become a boom area for much more than North American retirement and second-home buyers. The country is attracting Europeans like never before, and thousands of rich people from places like Venezuela. The prince of Saudi Arabia just flew in and announced that he is increasing his stake in Costa Rica where he already was major shareholder of the Four Seasons complex. Steve Case of AOL-Time Warner fame announced he was starting a new $800 million project. Famous hotel chains have been lining up from all over the world starting new projects.

The cold hard facts are 78 million baby boomers are going to retire soon, and Costa Rica is on the top of the list for those wanting to leave the States. There is simply not enough space any longer in the Central Valley to accommodate even 1 percent of these potential new arrivals.

What the new comer to Costa Rica needs to understand is that
there is a two tiered market here. Housing like you see in the States and the local Tico market. Zoning for all practical purposes does not exist here, and the only way to assure high-class neighbors is to pay high prices for land. Does that mean you cannot find a Tico-style house for $25,000. I appraise these every day for the Costa Rica housing bank which is guaranteed by the government. There are lots of them, but most Americans would never feel comfortable or secure living in these areas.

Buyers come in all shapes and sizes, and there are lots of people who think nothing of paying $500,000 and up for a house. But the local people see that as a television dream since the average wage is $500 month. Many Ticos are leaving the Central Valley to live in areas like Puriscal which is nice area but does not offer the services most North Americans are used to. Even here prices are moving up rapidly.

I have nothing against real estate agents, but my profession is strictly licensed and regulated by the goverment where real estate brokers are not required to have any license.

My advice to a buyer is to inspect and appraise carefully before buying. Real Estate agents are fine for locating property but usually have no expertise in all of the risks that exist here which are much differnt than the U. S. Just making sure of the road quality leading to a property is something most take for granted, but Costa Rica roads and bridges often fail and the authorities are often strapped for funds to repair these quickly.

A couple of weeks ago there was a photo of 100 meters of road that collapsed near the University of Peace in Ciudad Colón where several upscale projects are located. No one knows how long it will take to fix the road or if there are other problems about to surface.

We have a recent client who has upscale desires, and we inspected and appraised a terrific house in Escazú for $545,000, which we found worth the asking price. But when our attorney checked the documents he found a clouded title the seller forgot to explain.

Next the buyers asked us to inspect a six-bedroom, 500 meter condo with incredible views and an asking price of $990,000. Our appraisal came in at $712,000.

On the other side, we appraised a tract of beachfront land two years ago which was titled. Many such tracts are not titled but are granted through a local concession. The seller was offered $450,000 by one of the largest tourist operators here, and we appraised this property at $850,000. The seller sold it off our appraisal at around $1,200,000 and, as I understand, it is now on market for $2 million.


* Ms. Jiménez, an appraiser licensed by the Colegio Federado de Ingenieros y Architectos for the last 21 years, has conducted thousands of appraisals.
email
mail@orbitcostarica.com
Return to Costa Rica Travel by Orbit
Copyright 1997 Orbit Travel Network Costa Rica. All Rights Reserved.