CHIROPRACTIC – NATUROPATY


ORBIT OPINON: Dr. Alex Satillal is one of the nicest most gentle people we have ever know and he really is good at his work. Extra benefit is looking out over a spectacular view behind his office in Ciudad Colon which is 8 miles west of Escazu.

Dr. Alexander Santillan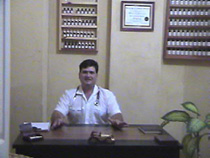 Member of the Costa Rican Association of Chiropractors, and of the Biologists board from Costa Rica Ministry of Health. University of Costa Rica, CONARE
Location:
Ciudad Colón, from the Home of Old men San Vicente of Paúl, 150 meters to the South and 600 meters to the West. Or of the Group Santa Bárbara, 50 meters to the North and 600 meters to the West.


Centro Medico Puriscal, 50 meters to the north of the northwest corner of the central park of Puriscal.


Clinica Santa Catalina, Jaco, 400 meters to the east of POPS, in Jaco beach
Contact us:
Telephone Ciudad Colón: (506) 2249-4835


Telephone Puriscal: (506) 2416-6171


E Mail: quiropracticasanti@costarricense.cr
We offer the services of:

Chiropractor of complete column, Homeopathy, Hydrotherapy, Reflexology, Electrotherapy, among others.
Treatments for:
Back pain, sciatica, pain in the shoulders, migraines, some cases of sterility, we stimulate the immune system, pain in the legs, pain in superior members, sinusitis problems, stress problem, punctured nerves, neck pain, migraines.
Affiliations:
CHIROPRACTIC INJURY & TRAUMA CENTER 110 Buenaventura Blvd Kissimmee,Fl 34743-4513
BOYKIN CHIROPRACTIC OFFICE 3364 Templeton Gap. Colorado Springs. CO 80907
CENTRO MEDICO PURISCAL Puriscal, San José, Costa Rica
English spoken
Telephone: (506) 2249-4835
E Mail: quiroracticasanti@costarricense.cr