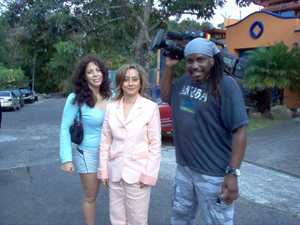 Angela Jimenez with film crew of House Hunters
HGTV

House Hunters asked around for a buyers broker in Costa Rica and sent this
crew and director down to film Angela at 3 locations (Avalon, Vivicon at
Lilia, and Prados Oeste)

Angela uses her experience of 22 years to make sure the buyer understands
the market in Costa Rica and does not overpay
YOU CAN SAVE A LOT OF MONEY BY BUILDING YOUR OWN HOUSE IN COSTA RICA

BUT YOU MUST BE CAREFUL OF HOW YOU GO ABOUT THE PROCESS

THE COST OF BUILDING VS BUYING FROM DEVELOPER IS ABOUT 60%

OBVIOUSLY YOU GET THE HOUSE YOU WANT IN THE LOCATION YOU WANT BUT MAKE SURE TO UNDERSTAND THE RULES AND FIND AN ARCHITECT AND ENGINEER THAT SPEAK GOOD ENGLISH AND WHO CAN SHOW YOU HOUSES THAT THEY DESIGNED AND BUILT



BY LAW ALL APPLICATIONS FOR CONSTRUCTION MUST BE FILED BY AN ARCHITECT OR CIVIL ENGINEER
WHO IS A MEMBER OF THE COLLEGE OF ENGINEERS AND ARCHITECTS(COLEGIO FEDERADO E INGENIEROS Y ARQUITECTOS). THEY ARE RESPONSIBLE FOR REVIEW OF ALL PLANS TO ENSURE THE BUILDING MEETS SEISMIC, ELECTRICAL, STRUCTUAL STANDARDS.

UNLIKE IN THE STATES OR THE MORE DEVELOPED COUNTRIES THERE IS VERY LITTLE INSPECTION DONE BY THE CITY OR MUNICIPALITY SO IT IS VITAL THAT YOUR ENGINEER/ARCHITECT DO THE INSPECTIONS ON A CONSTANT BASIS.

THESE ARE THE FEES REGULATED BY THE COLLEGE BUT SO YOU CAN NEGOTIATE TO YOUR HEARTS CONTENT BUT BEWARE OF THE ETHICS OF SOMEONE WHO WILL NEGOTIATE TOO LOW. THEY WILL USUALLY END UP BUILDING AN INFERIOR HOUSE AND GOING TO COURT HERE TAKES 8 YEARS OR SO.

PREMILINARY STUDY OF PROJECT .5% OF COST
PRE PROJECT DESIGN 1 TO 1.5% OF COST
ACTUAL FINAL DESIGN 4% OF COST

INSPECTION OF CONSTRUCTION 3% OF COST
LIMITED TYPE INSPECTION ONCE A WEEK

SERIOUS INSPECTION OF CONSTRUCTION 10% OF COST
I WOULD NEVER ADVISE DOING WITHOUT THIS SINCE NOT ONLY WILL THEY VISIT SITE EVERY OTHER DAY BUT WILL BUY YOUR MATERIALS AT MUCH BETTER PRICES THAN YOU CAN DO YOURSELF

ANY PROJECT MORE THAN 700 SQ FT MUST HAVE BUILDING PERMIT

MANY PEOPLE IGNORE THIS AND END UP WITH PROBLEMS LATER ON BUT TICOS ARE FAMOUS FOR NOT PAYING FOR PERMITS BUT I ADVISE ANY FOREIGN OWNER NEVER TO IGNORE THIS

TIME OF COMPLETION
OF COURSE THIS VARIES GREATLY BUT ESTIMATE 5 MONTHS FROM START TO FINISH

MOST CONSTRUCTION IS OF CONCRETE BLOCK WHICH IS MUCH LESS EXPENSIVE THAN WOOD CONSTRUCTION

THE MOST IMPORTANT REASON IS CONCRETE BUILDINGS DO NOT BURN AND THE FIRE DEPARTMENTS ARE NOT SO FAST AS THE STATES.
COST OF CONSTRUCTION

THIS IS REALLY THE IMPORTANT POINT WHEN MAKING DECISION TO BUILD YOURSELF.



MOST IMPORTANT ITEM IS NOT TRYING TO SAVE A LITTLE ON THE CONCRETE

USE CONCRETE MIX PERIOD
THIS IS PREMIXED AND REGULATED BY SERIOUS LAB TESTING AND WILL STAND UP TO ANY SESMIC EVENTS LESS THAN THE BIG ONE WHERE CALIFORNIA DOES FALL IN THE OCEAN

USING THE CHEAP WAY YOU END UP WITH LOTS OF CRACKS IN THE WALLS AFTER A FEW MONTHS

WE HAVE SEEN MILLION DOLLAR HOUSES WITH CONCRETE THAT WILL NOT STAND THE REQUIRED STRESS TESTS

AT MOST THIS MAY ADD A FEW DOLLARS FT TO COST OF YOUR HOUSE
PRICE OF CONCRETE HAS MOVED UP SO THIS IS JUST AN ESTIMATE DUE TO THE HUGE RISE IN COMMODITY PRICES
Angela has overseen the buidling, design, and inspection, and the paperwork for the permits of two condomium projects for me over the past few years. She has done a great job at reasonable prices. Anyone that needs references call me at country code 506-215-1508 or 392-5150

Juan Carlos Baldizon Navascues
Escazu Costa Rica
E-mail: mail@orbitcostarica.com
Angela Jimenez Rocha is an independent architect and Red Orbita Viajes S. A. (Orbit Travel)
is not involved in the constrution or architect business and this is only an advertising service to her.
Return to Costa Rica Travel by Orbit
Copyright 1997 Orbit Travel Network Costa Rica. All Rights Reserved.