Orbit Opinion: Number 1 Runner up in Tortuguero to the much more expensive Tortuga Lodge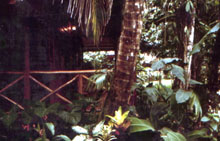 The best hotel in the area, located only 5 minutes away from Tortuguero National Park, Costa Rica. Come on and enjoy the Tropical Rain Forest, with all the comfort and facilities of our lodge. The lodge is strategically located only 5 minutes away from the extraordinary Tortuguero National Park, and right across the main "canal" facing the town of Tortuguero. Surrounded by a network of very scenic canals, this is considered one of the most exotic regions and also very rich in flora and fauna.

Why stay at Pachira Lodge?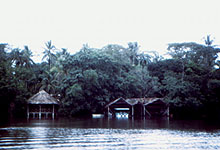 -The newest lodge in Tortuguero.
-14 hectares (34 acres).
-5 minutes from Tortuguero National Park main entrance.
-Stay at one of our comfortable rooms with private bathroom, hot water and ceiling fans.
-Enjoy all our buffet-style meals that are included. Let's cheers with our wine when for dinner.
-Be our guest at our bar and enjoy our excelent service.
-Let us show you this paradise with our bilingual tour guides, during the entire trip.
-Take advantage of our daily departures from San Josť, with no minimum of passengers required.
-Travel safety as we get you around comfortably.
-Take one of our optional tours available: Fishing, turtle nestling and morning tour (included in two days/one night package).
- Live this heavenly oasis nestled amidst the wilderness of Costa Rica's jungle.
-Do not miss the opportunity to experience Pachira Lodge, while you are in Costa -Rica.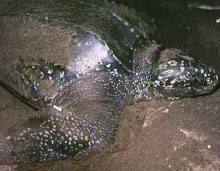 Important: from July to September, only a few minutes from the hotel, you can enjoy an unforgettable experience, the arrivadas of the Green Turtle.



Services :

34 comfortable rooms

Hot water
Ceiling fans
2 double beds
private bathrooms
bamboo furniture

Restaurant / bar - all meals are included in the price of the package

Description/Includes

Single

Double

Triple

Children

ONE DAY TOUR (min: six pax)
Ground transportation, two boat transfers. Breakfast and lunch.

US $ 99.00

$ 99.00

$ 99.00

$ 69.00

TWO DAYS / ONE NIGHT
Ground transportation, two boat transfers. All meals, lodging and tours.
$ 229.00
$ 176.00
$ 165.00
$ 88.00
TWO DAYS / ONE NIGHT
Departure by plane, return by boat. All meals lodging and tours.
$ 315.00
$ 259.00
$ 242.00
$ 152.00
TWO DAYS / ONE NIGHT
Departure by boat, return by plane. All meals, lodging and tours.
$ 315.00
$ 259.00
$ 242.00
$ 152.00
TWO DAYS / ONE NIGHT
Round trip air transportation. All meals, lodging and tours.
$ 399.00
$ 359.00
$ 302.00
$ 195.00
THREE DAYS / TWO NIGHTS
Ground transportation, two boat transfer. All meals, lodging and tours.
$ 313.00
$ 239.00
$ 199.00
$ 99.00
THREE DAYS / TWO NIGHTS
Departure by boat, return by plane. All meals, lodging and tours.
$ 459.00
$ 339.00
$ 335.00
$ 162.00
THREE DAYS / TWO NIGHTS
Departure by plane, return by boat. All meals, lodging and tours
$ 459.00
$ 339.00
$ 335.00
$ 162.00
THREE DAYS / TWO NIGHTS
Round trip air transportation, All meals, lodging and tours.
$ 549.00
$ 445.00
$ 425.00
$ 219.00

All rates are per person in US Dollars

Children under 12 years of age. Max. 2 per room

Please contact us for further information
---
[Home]
[Caribbean Hotels]
---