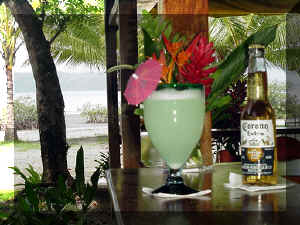 Hotel Address:
On The Beach, Gulfo Dulce
City:
Puerto Jimenez
Province:
Puntarenas
Hotel Description:

The property is conveniently located minutes from the airport on the edge of Puerto Jimenez on the Osa Peninsula. Our unique village is a secluded tropical garden set within a protected mangrove. Scarlet macaws, iguanas, and snakes visit us daily, and we have a mangrove lagoon on the rear of the property that is home to some 30 caiman crocodiles and a handful of American crocodiles.

We are a higher-end full-service facility, catering to personalized service. We are the only hotel in Puerto Jimenez that is located on the beach. We offer private luxury bungalows, an open-air restaurant featuring local and international cuisine, an eclectic mix of souvenirs at our gift desk and many activities for our guests. Beach Volleyball, kayaking and crocodile feeding are free!

Parrot Bay Village is committed to the preservation of the flora and fauna that we all respect and appreciate in Costa Rica! We are set within and respect the natural environment and encourage our guests to explore and be interactive with everything that surrounds them.

The Village is a full-service sport-fishing and eco-adventure hotel offering extensive tours and packages unlike those offered by any other hotel on the Osa Peninsula.

We offer 2-7 day tour and meal packages, and are happy to tailor make a package to suit your client and ensure our guests get the most of their holiday!

Check-In Time:
7 am
Check-Out Time:
12 Noon
Time Zone:
Central USA
Daylight savings time observed at the area:
NO
Total Number of Rooms:
8
Type Of Rooms And Prices
| | |
| --- | --- |
| We have eight secluded bungalow's each with it's own breathtaking view, private bath and deck, and a 2 story family style house that sleeps up to 5. There is a bar and restaurant and bar that features international cuisine and a spectacular view of the ocean, with a backdrop of rainforest as well as excellent opportunities to observe local wildlife. | |
FOOD AND LODGING

Cabinas:


Parrot Bay Village has eight cabinas with private baths that sleep up to three people and one family style, two-floor house that sleeps up to five people. Two of our cabinas will have air-conditioning, and all the cabinas have fans. Each cabina is only a one minute walk from the bar/restaurant or the beach, two perfect places to relax with a cold drink and a good book.

Bar/Restaurant:


Parrot Bay Village also has a full service bar and restaurant that serves breakfast, lunch and dinner. Enjoy your meals or relax with a book and a refreshing fruit smoothie while you gaze out at palm trees, the beautiful Golfo Dulce and surrounding mountains. Gallo Pinto (typical Tico breakfast), fresh fruit drinks, and fresh fish are only some of the wonderful offerings on our menu.
Location
Parrot Bay Village sits on the waterfront of Golfo Dulce, the second deepest bay in the world. The staff has carefully placed the components of the lodge to naturally coexist with the pristine environment bordering Corcovado National Park. The outcome is nothing less than spectacular. We look forward to having you share the warmth and hospitality of a place that will truly touch your soul.
2001/2002 Season Rates

HOTEL AND DINING PER PERSON , Includes 2 meals daily
Single occupancy
$90.00
Double occupancy
$110.00
Triple occupancy
$130.00
Quad occupancy
$150.00
Casa Cabina
$185 .00
Tax not included in room rates
Rates are per day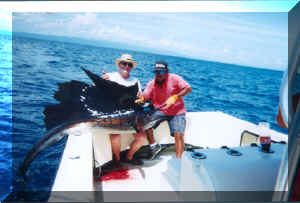 Deep Sea Fishing Packages
| | | | |
| --- | --- | --- | --- |
| Occupancy | 3 Fish Days | 4 Fish Days | 5 Fish Days |
| Single | $2875.00 | $3675.00 | $4175.00 |
| Double* | $1945.00 | $2345.00 | $2745.00 |
| Triple** | $1645.00 | $2085.00 | $2295.00 |
| Quad*** | $1535.00 | $1845.00 | $2345.00 |
* 2 per room, 2 per boat

**3 per room, 3 per boat

*** 2 per room, 4 per boat
RESERVATION POLICY
A 50% deposit within 10 days of e-mailed or faxed reservations, balance 3 weeks prior to arrival. If deposit is not received, cancellation will be automatic. If an extension is requested, reservations will be assumed confirmed, and cancellation policies will apply.
Bookings must be reconfirmed by fax 30 days prior.
Prices include the following:
ground transfers in San Jose and Puerto Jimenez

one night's lodging at the **** Hotel Herradura in San Jose

round trip airfare San Jose/Puerto Jimenez/San Jose

accommodation, all meals, beer, soft drinks and local liquor while at Parrot Bay Village

fishing license
Prices do not include the following:
meals in San Jose

international flight to San Jose

airport departure tax

gratuities for your fishing captain and village staff

fly fisherman must furnish their own equipment
Terms and Conditions:
A deposit of $500.00 per angler is required upon reservation. The balance is due 90 days prior to scheduled arrival at the village. A refund of the deposit less a $100 processing fee will be reimbursed upon written notice of cancellation within 60 days of scheduled arrival. Cancellations between 30 and 60 days prior to scheduled arrival will result in forfeiture of the $500 deposit. No refund of monies paid will be returned to no-shows or to those who cancel within 30 days of scheduled arrival.
Eco-Tour Packages:
Prices on all packages include transportation between San Jose and Puerto Jimenez, meals, accommodations and tours. Explore the Osa Peninsula from the most convenient location! We are located about ½ hour away from the exciting and diverse reaches of the Osa Peninsula, the Golfo Dulce and Drake's Bay
Lodging Type
| | | | | | |
| --- | --- | --- | --- | --- | --- |
| | All-Suite | | Condominium | | Villa |
| | Apartment | | Hotel | | Apartment Hotel |
| | Bed and Breakfast | | Resort | | Country Inn |
| | | | | |
| --- | --- | --- | --- | --- |
| Meals are included in the room rate: | Yes | | No | |
| Breakfast is included in the room rate: | Yes | | No | |
HOTEL LOCATION
| | | | | | |
| --- | --- | --- | --- | --- | --- |
| | Airport | | Resort | | Suburban |
| | Downtown | | Midtown | | Countryside |
HOTEL SURROUNDINGS
| | | | |
| --- | --- | --- | --- |
| | Business District | | In the Mountains |
| | By a Lake | | On the major highway |
| | By a Beach | | On the Beach |
| | Entertainment District | | Shopping District |
| | In the Country | | Suburban |
NEAREST AIRPORT TO HOTEL (

International)
| | |
| --- | --- |
| Airport Name: | Juan Santamaría International Airport |
| Airport Code: | SJO |
| Distance and Direction from Airport to Hotel: | 175 miles south |
ALTERNATIVE AIRPORT TO HOTEL (National)
| | |
| --- | --- |
| Airport Name: | Puerto Jimenez |
| Distance and Direction from Airport to Hotel: | 1 Mile west |
NEAREST MAJOR CITY OR TOWN
| | |
| --- | --- |
| City / Town Name: | Puerto Jimenez |
| Distance between city and the hotel: | Minutes |
CREDIT CARDS ACCEPTED
| | | | |
| --- | --- | --- | --- |
| | American Express / Optima | | Mastercard |
| | Diners Club | | Visa |
| | Discover | | |
HOTEL FACILITIES
Air Conditioning
Fire Sprinkler System
Babysitting Service
Gift Shop
Bakery
Handicap facilities / access
Banquet / Meeting Rooms
Health Club / Spa
Barber / Beauty Shop
Ice Machine
Private Beach
Laundry / Dry Cleaning
Public Beach
Newstand
Bellmen
Non-smoking rooms
Breakfast, Comp Full
Pets allowed
Business Center
Indoor Pool
Car Rental Service
Outdoor Pool
Casino
Room Service
Coffee Shop
Safe Deposit Box
Concierge Desk
Turn Down Service
Connecting Rooms
V.I.P. Floor
Currency Exchange
Lending Library
Guest Elevators
HOTEL ACTIVITIES (within 2 miles walking)
| | | | |
| --- | --- | --- | --- |
| | Ballooning | | Island Cruises |
| | Bike Path | | Jogging Track / Trail |
| | Birdwatching | | Kayaking |
| | Boating | | Miniature Golf |
| | Bungee Jumping | | Mountain Biking |
| | Casino | | National Parks |
| | Cloud / Rain Forest | | Parachuting |
| | Deep Sea Fishing | | River Tours |
| | Ecological Trips | | River Rafting |
| | Fishing | | Scuba Diving / Snorkeling |
| | Game Room | | Sea Turtle Nesting |
| | Gardens | | Shopping |
| | Golf | | Water Skiing |
| | Golf Driving Range | | Tennis, Outdoor / Lit |
| | Hiking Nature Area | | Tennis, Outdoor / Unlit |
| | Horseback Riding | | Thermal Waters |
| | Ice Skating | | Volcanoes |
| | Indian Reserve | | |
IN-ROOM AMMENITIES
| | | | |
| --- | --- | --- | --- |
| | Air Conditioning | | Minibar |
| | Balcony | | Mirrors, Full Lenght |
| | Clock Radio, AM / FM | | Movies, Cable T.V. |
| | Free Coffee | | Free Newspapers |
| | Ceiling Fans | | Multiple Phone Lines |
| | Fireplace | | PC Data Report |
| | Heat Lamp | | Refrigerator |
| | Hot Tub | | Remote Control T.V. |
| | Iron | | Robes |
| | Ironing Board | | Safe |
| | Kitchenette | | Trouser Press |
| | Free Local Phone Calls | | VCR |
| | Microwave | | |
PARKING / TRANSPORTATION
| | | | |
| --- | --- | --- | --- |
| | No Parking | | Courtesy Car to Airport |
| | Complimentary Parking | | Limousine Service to Airport |
| | Charge for Parking | | Courtesy Car to Attractions |
| | Valet Parking | | Limousine to Attractions |
---
[Home]
[Southern Zone Hotels]
---