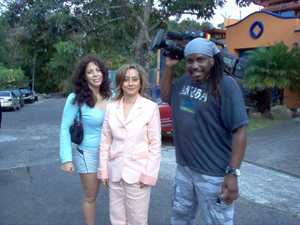 Angela Jimenez with film crew of House Hunters
HGTV

House Hunters asked around for a buyers broker in Costa Rica and sent this
crew and director down to film Angela at 3 locations (Avalon, Vivicon at
Lilia, and Prados Oeste)

Angela uses her experience of 22 years to make sure the buyer understands
the market in Costa Rica and does not overpay
COSTA RICA REAL ESTATE MULTI LISTING BY OWNERS
DIRECT TO THE PUBLIC

There are a hundred things to think about in making a decision to buy or rent real estate in a foreign country.
When I first came to Costa Rica in 1994. I knew I did not understand the market and sought out real estate agents. At that time no service like Orbit existed where you could see photos and prices before arrival. Just like in the first world real estate agents represent the seller not you the buyer. In Costa Rica it is more difficult to work with one agent who can present the entire market because there is no real multi list system such as you probably are used to in the United States or others first world countries.
Therefore your agent may show you only those properties he or she has listed since the level of cooperation between agents is more limited here than the U.S for example. You may not see a good overview of the market. Secondly many agents tend to concentrate in the western suburbs of San Jose which although nice enough are not representative of the whole central valley where the majority of people live in Costa Rica.
The possibility exists that you will only gloss over many of the different systems that exist for buying and maintaining properties here in this paradise that we know exists. Many of the best values and great houses are not listed with agents or advertised in the papers. Many owners in Costa Rica do not want to work with agents and many want to avoid paying the agents commissions. Therefore many properties that might fit your needs might never be presented to you. The cost of advertising in the newspapers here in quite high so many properties do not get advertised but rely on word of mouth to sell them. As a stranger to the country you are not likely to hear about them. The importance of understanding that property tax here has much to do with what you declare its value to instead of a standardized appraisal system by the government is vital for you to know. You also need to understand that the street tax for garbage pickup is not included in the property tax and you must pay it. If you were like me, and no one ever told you that a bill does not come to your house, you will be surprised. You much search out where to pay it otherwise eventually you will get a summons. Costa Rican's tend to hold the property in the name of companies whose owners are the persons holding the bearer shares so you really need a good lawyer to check up on things for you. Also there is generally so such thing as title insurance as you know it back home.
With all the pitfalls we just pointed out, why is Costa Rica so popular that thousands of North Americans and Europeans are moving here? The best climate in the world, a safer environment to retire in or raise the kids, no gangs or noticeable drug culture, no drive by shootings and liquor store holdups, great food and restaurant, friendly people, equal construction quality to the developed world, reasonable prices, no need to pay heating or cooling bills, no racial clashes, more or less this is a tax free country if you know what to do, and a government that is laid back although the bureaucracy is sometimes frustrating.
Orbit does the one important thing that you as a buyer need.
We introduce you to the properties owners directly so you and the seller have a better chance of coming to terms without the typical real state commission thrown in.
THE REAL SECRET TO BUYING PROPERTY IN COSTA RICA IS TO HAVE SOMEONE WHO REALLY UNDERSTANDS THE VALUES WHO IS NOT INVOLVED IN RECEIVING A COMMISSION ON THE PROPERTY YOU INTEND TO BUY. WE RECEIVE NO COMMISSION ON ANY OF THE PROPERTIES ADVERTISED LISTED HERE WITH THE EXCEPTION OF TWO. WE DO OFFER AN ADVISORY SERVICE FOR A FLAT $500. THIS INCLUDES THE MOST IMPORTANT ADVICE YOU WILL EVER RECEIVE IN COSTA RICA WHICH IS HOW TO ESTABLISH A LEGAL PRESENCE IN COSTA RICA. OUR EXPERIENCE SINCE 1994 IS THE ALMOST ALL PROPERTIES LISTED WITH A REAL ESTATE BROKER ARE OVER PRICED.
WE ADVISE YOU TO TALK TO US ON ARRIVAL SO THAT WE CAN REFER YOU TO A RELIABLE ATTORNEY THAT SPEAKS ENGLISH WELL AND THAT WE CAN TELL YOU ABOUT THE DIFFERENT CHARACTERISTICS OF THE VARIOUS AREAS OF THE COUNTRY. ALSO WE CAN ARRANGE A SHORT TERM APARTMENT LEASE FOR YOU WHILE YOU LOOK AROUND.
Come and visit us. It is a country that is truly fascinating and enjoyable and safe. Best of all look over the direct to buyers offerings without leaving your seat now and dream about living in a tropical paradise where outside your door the fruits of paradise grow without any effort on your part.

CLICK HERE TO SEE OUR LISTINGS
References
From: James Miller <miller@buphy.bu.edu>
To: harold <mail@orbitcostarica.com>
Cc: <miller@bu.edu>
Sent: Monday, June 24, 2002 7:46 PM
Subject: thanks for your help

Dear Harold,
Many thanks for your help in arranging a rental car and a place to stay on
my first trip to your beautiful country. The car was brand new and the price
was good. All in all, a great vacation, and everthing went smoothly- no
surprises!
And especially, thanks for your indispensible advice conerning property
purchase in Costa Rica. You gave me a boat load of information on where (and
where not) to look for property and the three days of tours around the
central valley taught me more about the market there than I could have
learned in months on my own. And thanks for putting me in contact with
excellent professional help (notary and
engineer). With the many surprising ins and outs of dealing in real estate
in Costa Rica, I would strongly recommend your program as essential to
anyone seriously interested in investing in property there.
I'll be back!
Thanks again,
James Miller
Professor of Physics
miller@bu.edu
Lexington, Massachusetts
ORBIT NOTE: WE ARE VERY PROUD OF DR. MILLER'S DISCOVERY OF A NEW KIND OF
PARTICLE OF MATTER FOR THOSE WHO WANT TO READ THE NEW YORK TIMES JULY 31,
2002 ARTICLE AND WERE HONORED TO HAVE HIM VISIT WITH US AND WERE OVERJOYED
TO LISTEN TO HIS STORIES ABOUT STEPHEN HAWKING THE WORLD REKNOWNED PHYSICS
PROFESSOR.

E-mail: mail@orbitcostarica.com
Return to Costa Rica Travel by Orbit