Location: Barrio San José, from the Cervecería de Costa Rica wharehouses, 150 mts. north. 15 minutes away from San José Downtown.
City: Curridabat
T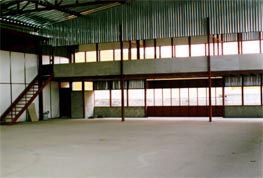 otal square meters of land: 2,175 sq. meters.
Total square meters of house: 1,140 sq. meters.
Office space: 92 sq. meters both six offices.
Age of property: 1 year
Number of bathrooms: 2
Facilities:
Cement and steel construction.
Ceiling Fans
Enclosed Garage
Near shopping
Security guard service
Telephone line
Fax
Potable water
Located in the industrial zone of the city, near motels.
For information please contact:

Mr. Manuel Francisco Morales Tel: (506) 259-2803 Fax: (506) 219-3335