Right in the forest, 4 km from Pochote beach and from the 400 home project of Barcelo resort, on a 25 hectares property… Yes, you are on the SOUTH NICOYA PENINSULA, and we sell separately or in totality:
Lot n°1: forest cottage of 100 m² on 2 levels. Concrete floor, bathroom, WC, kitchen, 2 bedrooms, terrace, rustic style furniture, with nice garden in flower and beautiful river, 6000 m² land.
Private road, electricity, telephone, spring water. Lots of wild animals.
Price : US $30,000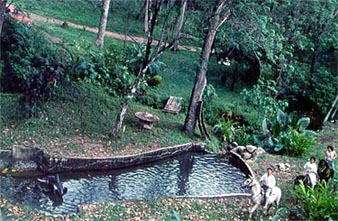 Lot n°2: house on concrete stilts, 100m² on 1 level. Fireplace, luxury bathroom in a separated building. 2 WC, equipped kitchen, 3 bedrooms, a large wooden terrace overhanging a swimming pool and a river, solid and exotic wooden furniture (teak and cedar) .
Private road, beautiful flowered garden with fruit trees on a 2,3 hectares land. 100 teak trees
(1994). 30 m² garage in a separated building. Spring water, electricity and telephone.
Price: US$ 105,000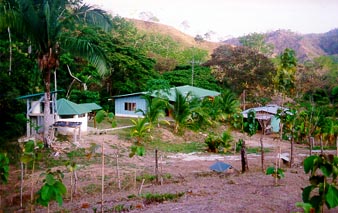 Lot n°3: 22,1 hectares of teak and precious native woods, (mahogany, cedar, ronron, cocobollo etc…) (1994)
1 spring. Sea view part to be exploited.
Tourism business since 1994: Horse riding, guest house, camping, cruising, fishing. Botanical garden in project.
Costa Rica residency offered!
Price : US$130,000
OWN 2 HOUSES, PAY ONLY ONE !!!
LOVERS OF NATURE…
OFFERS AVAILABLE UNTIL DECEMBER 31, 1998
BETTER CONDITIONS FOR THE WHOLE PROPERTY
BE THE FIRST IN AN AREA WHICH IS BOOMING.
WE SELL TEAK AND TEAK FURNITURE AT THE BEST PRICES!!!
For properties and wood, call fax : (506) 683 0204.