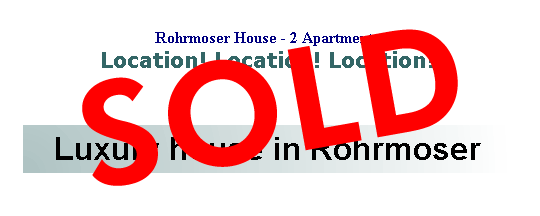 Exclusive newly renovated 2 story house in European/US style located near the US Embassy in San Josť, Costa Rica's capital . Private, quiet, secure with open airy spaces and large rooms. 3 minutes walk to "Collegio Humbolt", the best school in Costa Rica. 5 minutes walk to major shopping centers. Only a ten minutes ride to downtown San Josť.

The property features a 250 m2 (2750 sq ft) house with 2 attached apartments. totally 400 m2 (4400 sq ft) of construction. Can be used as 1, 2 or 3 units. The best view in Rohrmoser with a 180 degrees view of Heredia, Escazu and Irazu, Poas and Barva volcanos. A tropical gardens with a BIG Manga tree, banana, platano, orange, bougainvilleas etc.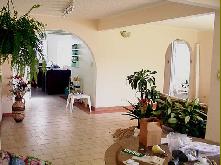 Comes partially furnished and with 4 digital telephone lines. Internet through cable modem available up to 512 kbps. Ideal for Business, family/business, embassy, large family or Playboy mansion.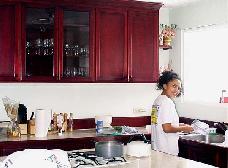 5 bedrooms
4,5 baths (one more can be added)
One 30 sq meter (330 sq ft) office with volcano view
3 Living Rooms
One 40 sq meter (440 sq ft) social area w fireplace and Nordic SPA
3 Kitchens
3 Laundry rooms
2 walk in closets
3 interior gardens
2 exterior tropical gardens, fountain
Large "Mirador" (view platform) above the roof with 180 degrees view
400 sq meter (4400 sq ft) construction on 365 m2 (3900 sq ft) land
Parking for 3 cars

European owner must leave Costa Rica for family reasons. Opportunity. Priced slashed for quick sale from 225,000 to only 159,000 (+ reasonable cost for appliances and furniture) !!!
For more information:
Locally in Costa Rica, English, German, French
John: (506) 296-3509
Locally in Spanish: Isabel (506) 291-1617 or Mireya (506) 383-0181
email: comunico@telia.com