Escazu Country Club Villas on Private Estate
We have two 800 square foot villas behind our main estate house with 24 hour armed guard and the entrance to our street has a security gate with cameras and guard so all visitors must check in for permission to enter the street which is real security. The street is a cul de sac with no thru traffic and quiet. We are across the street from the entrance of the Costa Rica Country Club which is the most upscale area of Escazu known as the Beverly Hills of Escazu. Walking distance to all services including restaurants, banks, grocery within a few hundred yards. This is perfect location for senior citizen who wants to retire in paradise in the central valley especially Escazu where most of the upscale North Americans live and English is spoken fairly widely.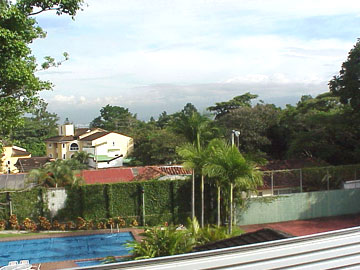 view of the volcano 30 miles away from
the villa from the balcony of the upstairs villa
Fabulous 800sq ft. luxury villa high up in the trees next to the Escazu Country Club. This is the most upscale zone in all of Costa Rica.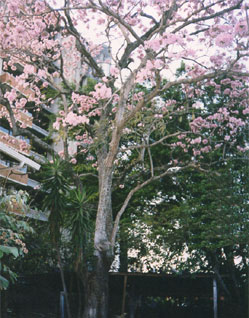 view of the pink flame tree from
window of the villa

Perfect views of the Barva Volcano, San José and the Central Valley.

each villa has queen size bed, Bedroom is 15x20, kitchen, living dining room combo, huge bathroom and walkin closet, fully furnished with plates, pots, pans, etc.
cable TV, DSL internet, telephone, 24hr security,
overlooks tennis courts, hummingbird garden of next door complex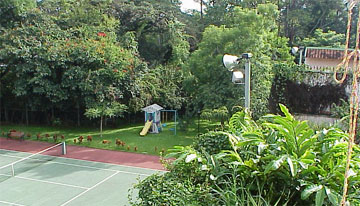 view of the neighbors tennis from the villa
WEEKLY RENTAL $350
bottom villa with private garden
ONE YEAR LEASE $595 month with security deposit of one month
top floor villa with balcony ---One year lease $495 month with security deposit of one month
renter pays electric, cable tv, telephone, internet
Will consider one month rental at $900 month with security deposit
Call Harold at 011-506-88271314 or 83301035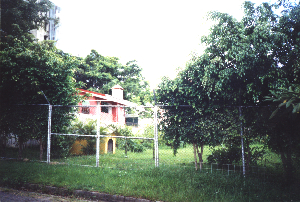 August 17, 2003
dear orbit
As i get ready to leave after 3 months this wonderfull villa on this private estate I wish to thank you for not only the experience of living here but for all the free advice and help you have given me on living in Costa Rica.
I will be back next year ready to look around for something to buy. Absolutely will be using Angela for design of my new house and for advice on the construction.
Anyone who wants to call me at below number for reference tell them I am glad to talk.
Tim Putnam
Complete Communications
California
Harold or Angela
from the states 011-506-88271314
inside costa rica 88271314 or 83301035