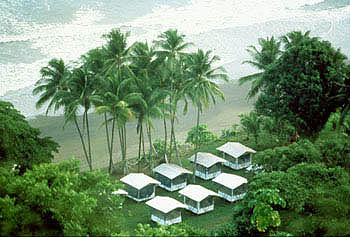 CORCOVADO LODGE TENT CAMP
A world class wildlife experience for the hardy nature enthusiast Corcovado Lodge Tent Camp is an absolutely unique experience. There is nothing like it anywhere in the world.
Located right on the beach on the southern border of Corcovado National Park, it is the only lodge that provides comfortable accommodations along with such close access to the famous southern half of Corcovado National Park. Click here for more photos of Corcovado Lodge While by no means easy or probable, here the visitor will have the best chance in Costa Rica to actually see the large mammals-jaguar, tapir, ocelot and peccaries-which have come to symbolize the tropical rain forest. There is a good chance that the visitor will have the thrill of seeing recent signs of their existence and knowing that they are in the habitat of these almost mythical creatures.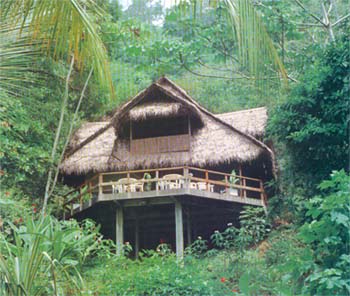 Our professional Naturalist Guides are enamored with Corcovado and most guests consider it the highlight of their trip. The most frequent complaint is that we should have recommended longer stays. Most guests book 2 or 3 night stays and wish they had added at least a day. The local guides at Corcovado are either Spanish-speaking inhabitants of the Corcovado area or other bilingual personnel who are familiar with the trails of the region.
Their knowledge of the area and its natural history together with their ability to spot wildlife makes them invaluable. On a low grassy bluff above the Pacific Ocean beach sit twenty comfortable 10–foot square wall tents pitched on wooden platforms, each with 2 single beds, providing a base for our 198 acre private reserve.
The lodge includes a screened, thatched-roof dining room and kitchen, a thatched-roof hammock house and bar, and two common bath houses, each with 4 showers, 4 toilets, and 4 hand basins. Electricity is supplied by a small generator, and guests should bring flashlights for illuminating paths after dark. The most popular activity at the lodge is wildlife observation from the canopy platform in an emergant tree over a 100 feet above the forest floor.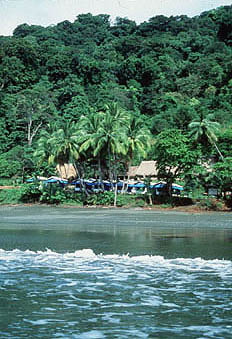 Corcovado National Park is the protected wilderness area with the greatest biodiversity in Costa Rica. Adjacent to Corcovado National Park is one of the protected wilderness areas with the greatest biodiversity in Costa Rica. Covering a large portion of the western sector of the Osa Peninsula on the southern Pacific coast, it protects 136,347 acres of shallow lagoons, marshes, mangrove swamps, rivers, rain forests, low altitude cloud forest and 46 km. of sandy coastline. More than 500 species of trees have been identified, as well as 140 of mammals, 367 of birds, 40 of freshwater fish, 117 of amphibians and reptiles, and it is estimated that there are some 6,000 species of insects. The climate at Corcovado is generally hot and very humid, with about 280 inches of rain each year. Dry season usually lasts from late December through April.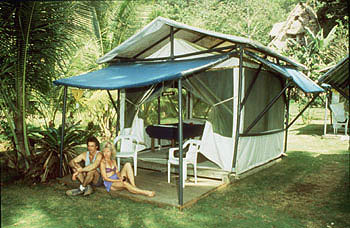 The Lodge was featured in both Travel and Leisure (Nov. 1995) as well as the New York Times Sunday Travel Section (Feb. 16, 1996). Corcovado Lodge is fast becoming what we predicted: a world class nature tourism project on the perfect spot in one of the most remote, richest wildlife areas on the planet.
CORCOVADO RAIN FOREST ODYSSEY

A 2 night expedition with a trip to the rainforest canopy platform included
3 Day/2 Night
Without Guide

(Recommended stay 3–4 nights.) Pick-up at San José hotel for the 30 minute to 1 hour transfer to the Pavas Airport for a 1 hour light charter flight to Carate (1 mile southeast of Corcovado Lodge). Upon arrival at Carate, walk 30–45 minutes with a Corcovado Guide to the Lodge (luggage will be transported by the Lodge).
Free afternoon for hiking through Corcovado Lodge Preserve and/or Corcovado National Park. Overnight at Corcovado Lodge.
On day 2, enjoy a half-day guided trip to our tree platform in the rain forest canopy where more than half of the jungle wildlife is found. Overnight at Corcovado Lodge.
Either early in the morning or at mid-day (depending upon the tides), return to San José in reverse order from above.
Includes: 2 nights lodging at Corcovado Lodge, 6 meals, half day tree canopy platform trip with Platform Guide, round trip air San José-–Carate–San José, all airport transfers, park entrance.

WITH GUIDE
Same services as above, but with the exclusive services of a bilingual naturalist guide throughout your entire stay at Corcovado Lodge
EXTRA DAY
WITHOUT GUIDE
Overnight at Corcovado Lodge with 3 meals.

EXTRA DAY
WITH NATURALIST GUIDE
Overnight at Corcovado Lodge with 3 meals, and the services and expenses of a Naturalist Guide.
The time of our flight from Carate to San José will depend on the ocean tide. Given that the walk from Corcovado Lodge to Carate and vice versa must be on the beach, if we are within two hours on either side of the high tide time, it can be difficult going as the waves will be washing in over your feet. By programming our flights and walks to be either two hours before or two hours after the high tide we avoid this difficulty.


CORCOVADO RAIN FOREST ODYSSEY PRICING
DEC.15, 2002 - DEC. 14, 2003


Price per person in US$, based on double occupancy
and includes all taxes.

No. of Guests
2
3
4
5+
Sgl/Sup
Without Guide
$699
$569
$569
$569
$18
With Naturalist Guide
$999
$799
$699
$699
$18
Extra Day without Guide
$66.72
$66.72
$66.72
$66.72
$9
Extra Day with Guide
$141.22
$116.39
$103.97
$96.52
$9
Fixed Departures : Please check with us for availability