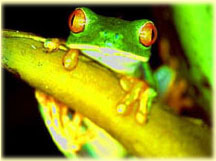 Overview
So you've been searching for a way to experience the Neotropical Rain Forest without four days of hiking with 100 pounds of gear ... Bosque del RíoTigre

Sanctuary & Lodge Dos Brazos, Costa Rica
We've built THE place for you!

Our lodge, Bosque del Río Tigre, is located on the Tigre River just outside the small town of Dos Brazos on the Peninsula de Osa. This remote location in the Reserva of Corcovado National Park gives the visitor a truly exhilarating sense of the tropical rainforest. The lodge itself is completely surrounded by primary and secondary woods.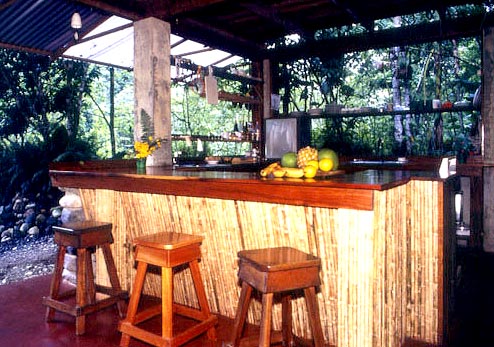 We can accommodate up to ten people but rarely have more than four or five people at a time so we are able to maintain a friendly and family like atmosphere. Quality food, comfortable accommodations and the full attention of our staff combined with the spectacular mountain setting will make your stay the high point of your vacation. Our 31 acre sanctuary includes both secondary and primary forest, numerous trails, creeks and lagoons, a refreshing 50 foot waterfall and a collection of local orchids. We have living in the sanctuary three types of cats, pizotes, wild pigs, poison dart frogs, monkeys and an abundance of birds. The whole area is also one of the BEST spots for bird watching in Costa Rica. The two story lodge, surrounded by tropical forest is designed for rustic luxury with 4 private rooms, shared baths, community lounging and dining areas, and an extensive reference library on neotropical flora and fauna. The second story rooms are built with open windows on two sides for easy bird watching and better air circulation. Yes, we provide generous mosquito netting. We also offer a small cabin with a private bath. Our kitchen provides appetizing meals in a variety of cuisines. Vegetarian meals are also available.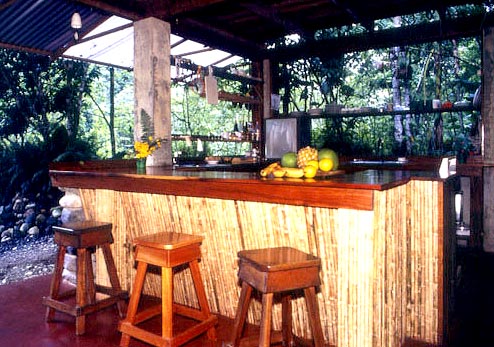 Rates

$66/ person per night. Includes: 3 meals, two beers or sodas, snacks, fruit drinks and a short nature hike or gold panning lessson once during your stay.
During the "green season," May through November, we charge $55 per night.

Excursion Rates: $20 per person for 3 or 4 hours and $35 per person for 4 to 6 hours. Price includes use of binoculars, field guides and snacks and/or sandwiches.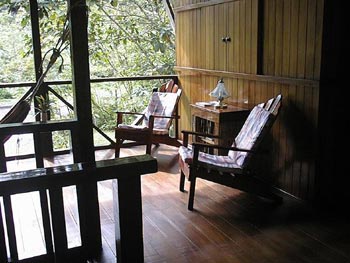 Dear Traveler,
Getting there is half the fun. Right? You can pick up a road map of Costa Rica at the airport or at any travel agent. We can send you a copy of a rough local map that can help you find us once you are close to Puerto Jiménez. Give yourself a full day to travel anywhere in Costa Rica and plan on relaxing and enjoying the drive. I know it looks like a small country but there are few road signs and the roads can be rough with occasional holdups due to landslides, disabled vehicles and accidents. It all works out just fine if you have the right attitude. I've had a great time talking with people and bird watching during those holdups. Generally it takes 6 to 7 hours to get to our place by car, 9 hours by bus and 45 minutes by air.