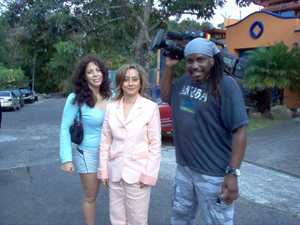 Angela Jimenez with film crew of House Hunters
HGTV

House Hunters asked around for a buyers broker in Costa Rica and sent this
crew and director down to film Angela at 3 locations (Avalon, Vivicon at
Lilia, and Prados Oeste)

Angela uses her experience of 22 years to make sure the buyer understands
the market in Costa Rica and does not overpay
Title insurance in Costa Rica?????
One more example that this is not the United States of America
and just because it works back home may mean very little here.

1. remember this is not a common law country but a codex law country
2. there is only one legally authorized insurance company in Costa Rica called INS owned by the government of Costa Rica
3. real estate agents often make commissions on selling title insurance but they are almost never experts on the law

Title insurance is commonly sold in the United States but not in other coutries. Title insurance in the states usually protects an owner or a lender against a financial loss in real property due to title defects and other issues. It is almost universal in the United States because lending instituions require it to lend money. It also may be one of the most overpriced pieces of paper you will ever buy.
In Costa Rica, the real difference you have to understand and ask the question of the seller of title insurance is this. Please explain to me is this legal insurance to help pay the legal bills to protect the title of a property or does it pay me the value of the property if I have a bad claim.
Because if it just pays the legal bills and you lose in court you STILL LOSE EVERYTHING.
READ THE FINE PRINT AND ASK IF a title guarantee in Costa Rica is really a bond of fulfillment and not an indemnification.
If the seller cannot provide you with clear cut understandable official english translation of the real coverage think real hard before spending your money. Ask yourself the question and make sure you understand "what is not covered" since this is more important than "what is covered" with any policy. Ask a qualified attorney an explanation for this who is not involved in the title insurance business.
We neither recommend nor not recommend title insurance only your attorney is qualified to do this.