Orbit opinion: Most upscale lodge in Tortuguero for service and food but more expensive for the traveler that is willing to pay for it.

TORTUGA LODGE AND GARDENS
Rustic Elegance in the Rain Forest Tortuga Lodge, situated on 50 acres of private land on Costa Rica's northeast Caribbean coast, was our first hotel. It is now our newest hotel. Everything we have learned about designing nature lodges over the last 11 years has gone into the remodeling of Tortuga Lodge.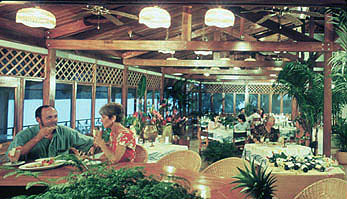 What we learned can be summarized in 3 words: "Reflect the place." The essence of Tortuguero is slow-moving tropical rivers. Everything about Tortuguero is defined by the rivers. They are Tortuguero's roads and Tortuguero's soul.
If a visitor wants to bring home the essence of Tortuguero he/she must get in tune with the rivers. Tortuga Lodge's restaurant starts at the river dock and reluctantly moves inland.
Designed to blend into the river environment, the pool features an environmentally friendly purification system that uses an undetectable amount of salt instead of commercial chlorine. The water does not irritate the eyes.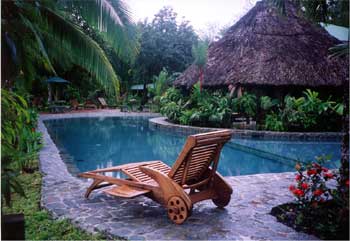 The all pervasive presence of the water blurs distinctions. As your boat moves slowly through the forest, you are immersed in a world where the forest merges with the rivers and the water becomes part of the tree. Land and water, indoors and outdoors lose part of their meaning.
The first 10 rooms built at Tortuga Lodge were dark and enclosed. Now whatever was useful from those rooms has been recycled into the community, and all rooms at Tortuga Lodge have almost as much window area as walls. Tortuguero is conservation. In 1962 the late Dr. Archie Carr began to study and tag the thousands of Atlantic green sea turtles that every year from June through October come to Tortuguero Beach to lay their eggs.
The study has continued without fail ever since, under the auspices of the Caribbean Conservation Corporation (CCC). It is the longest running continuous study of its kind in the world, and it has had a profound effect on the community of Tortuguero. Many of our staff have worked for the CCC, as have their parents. Caring for nature is woven into the fiber of the community. With over 80% of Tortuga Lodge's personnel from the Tortuguero area, we are committed to playing an active role in the Tortuguero community and working closely with an exceptionally effective community development association that has made Tortuguero an innovative model for cooperation between private enterprise and local communities, obtaining substantial benefits for the town. Let us know, and we would be delighted to send you more information on what the association is up to and how you can help.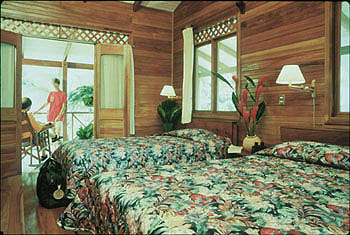 Add an energy conservation program that saves an average of 50% of the overall electrical energy consumption at the lodge*; electric outboard motors for all of our boats so that guests can enjoy the forest free of noise and fumes; (We are the only lodge in Tortuguero that guarantees the use of electric motors on the small creeks unless high water and strong currents precludes their use fo safety reasons.); Tortuga Lodge Botanical Gardens, featuring palms, orchids, and heliconias; a unique swimming pool that mirrors the rivers (if we can ever agree on the design); a creative mix of local and original food by Perla and Conchita; persistent concentration on Legendary Service and Unforgettable Memories; and you've got the best nature lodge we can do within our budgetary limitations. As long as we always rememberů Tortuga Lodge's main reason for existence is to provide room and board for people interested in experiencing Tortuguero and Tortuguero National Park. Originally intended to protect a major nesting beach of the Atlantic green sea turtle, Tortuguero National Park now protects 51,870 acres, one of the last large areas of tropical rain forest in Central America.
Eleven habitats are found in the park. Three species of monkeys (Spider, Howler, and White-faced), Three-toed sloths, and River otters are frequently seen along the natural inland waterways and canals. Caiman, iguanas, River turtles, Basilisk lizards, and Poison dart (Dendrobates) frogs inhabit the area, along with more than 320 species of birds including all 6 species of kingfishers found in the new world, 3 species of toucans, 8 species of parrots, and other neotropical species such as the Slaty-tailed trogon, White-collared manakin, Purple-throated fruitcrow, and White-fronted nunbird.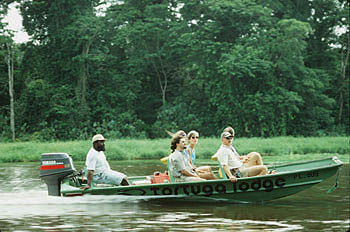 Rates:


3 day 2 nights package
with all 3 meals, drinks, 2 guide tours, lodging ,hotel pickup in San Jose
and return and round trip air to the lodge
$ 489 includes all taxes per person