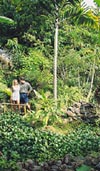 A very special place awaits the traveler in search for the perfect destination to experience the beauty of Costa Rica. At Vista del Valle, our goal is to create a worry-free haven of quiet and natural beauty for our guests. Guests may explore acres of tropical botanical gardens, a working coffee and orange plantation, observe exotic birds, butterflies, enjoy our own private preserve, and other natural wonders.

Just a short 20 minutes west of the international airport with spectacular views of the central valley it is the perfect place to start and finish your Costa Rica vacation.
The main house is an architectural marvel that features beautiful hardwoods, glass and stone, with high ceilings and an open floor plan. Each guest room has its own balcony and opens onto scenic views and gardens.
The exquisite cottages inspired by Japanese design have all of the amenities of home in very private and beautiful settings.
Trails lead through the gardens, plantation, and through the nature preserve, to our own 300 foot waterfall. Bird watching, hiking, horseback riding, doing laps in our mosaic tiled pool, soaking in the Jacuzzi, or hammock time are just some of the favorite activities here.
Although we are a convenient location to access the airport we recommend that you stay for more than 2 days. Many of our guests have suggested stays of 3-5 days to get the full advantage of the location.
We start off the day with breakfast on the poolside verandah that overlooks the Rio Grande Canyon Nature Preserve. Breakfast is delightful with fresh squeezed orange juice (from our plantation), fresh tropical fruit, Costa Rican Coffee, and our chef's "inspiration" of the morning.
Reservations may be made to have an evening meal on our veranda that overlooks the spectacular lights of the central valley. Dinners are a treat as our chef creates a Nuevo Cuisine with a "touch of Tico".

Keelbilled Toucan
Streaked Flycatcher
Western Kingbird
Crowned Woodnymph
Eastern Wood Pewee
Brown Jay
Rufus Capped Warbler
Summer Tanager
Squirrel Cuckoo
Black Vulture
Coopers Hawk
Red-billed Pidgeon
Kiskadee
Grooved-billed Ani
Euphonia Clay colored Robin
Northern Rough-wing Swallow
Tennessee Warbler
Barred Antshrike
Bananaquit
Common Pauraque
Palm Warbler
Short Tailed Hawk (pale phase)
Woodstork
Green-breasted Mango Hummingbird
Hoffman's Woodpecker
Nutting's Flycatcher
White Tipped Dove
Yellow Billied Eleania

Crimson-fronted Parakeet
Sulfur-Belly Flycatcher
Tropical Kingbird
Cinnimon Humming bird
Bluecrowned Mot Mot
White-throated Magpie Jay
Yellow Warbler
Blue Tanager
Grey-Headed Chachalaca
Turkey Vulture
Laughing Falcon
White-winged Dove
Great-tailed Grackle
Yellow-throated
Tropical Peewee
Rufus Napped Wren
Montezuma Oropendola
Red-Eyed Vireo
Yellow faced Grassquit
Blue Grosbeak
Long-tailed Manakin
Double Toothed Kite
Rufous Browed Peppershrike
Belted Kingfisher
Blue & White Swallow
Luca Dove
Baltimore Oriole
Prevost's Ground Sparrow
Rates
| | |
| --- | --- |
| MANGO MANOR(SUITE) | $160 |
| EXOTIC WOOD(SUITE) | $150 |
| TEA HOUSE(VILLA) | $165 |
| E NIDO(VILLA) | $160 |
| MONA LISA RANCHO(VILLA) | $145 |
| ILAN RANCHO(VILLA) | $160 |
| STANDARD ROOM | $100 |
ABOVE PERMITS TWO EXTRA PERSON $20 EACH
BREAKFAST INCLUDED
TAX NOT INCLUDED IN ABOVE PRICES
LOW SEASON RATES FROM MAY 1 TO JUNE 30 AND SEPTEMBER 1 TO NOV 15
10% LESS THAN ABOVE AND THIRD NIGHT NO CHARGE IF RESERVATION FOR 3 NIGHTS