Cariari Country Club

San Jose, Costa Rica
Par: 72
Yardage: 6,590
Slope: 132
Course Rating: 71.9
Architect: George Fazio

Yardage, slope & rating from Championship tees.


The Cariari, long considered to be the best course in Central America, is a natural to play when arriving in Costa Rica. Situated on land that was once a coffee plantation, the Cariari was designed by golf course architect George Fazio and built by his now famous nephew, Tom Fazio. This par 71 course measures 6,590 yards from the Championship tees, but plays much longer. The course is heavily wooded, the fairways are narrow with few fairway bunkers, and the greens tend to be on the large side with sand traps throughout. The greens are Bermuda and roll fast and true. The course record is held jointly by Raymond Floyd and Costa Ricans Álvaro Ortiz and Mario Pérez. The Cariari was the site of the Friendship Cup in 1979 & 1980. These PGA sponsored events were won by Larry Zeigler (2 under) and Raymond Floyd (9 under).
Rental clubs available.
Garra de León Golf Course

Playa Conchal
Par: 72
Yardage: 7,080
Slope: 134
Course Rating: 74.2
Architect: Robert Trent Jones, II

Yardage, slope & rating from Championship tees.

Garra de León Golf Course is an ocean course with a desire to replace the Cariari Country Club as the number one golf course in Central America. No expense was spared to create a course on par with the spectacular resort it surrounds. Beautiful vistas, sweeping fairways, large undulating greens, mucha agua - - simply put, a big golf course.

This Robert Trent Jones, II golf course at the Meliá Playa Conchal Beach & Golf Resort was built over a period of four years and was well worth the wait. What I truly admire about this project is the attention to detail. Although newly opened, Garra de León Golf Course feels as though it has been here for years. When I mentioned to a friend of mine what a tremendous course it will be once it has matured, he reminded me that in Costa Rica's tropical climate, things mature over a long weekend.

I had a great time playing with the course pro, James McAfee, and playing from the tips allowed me to see the entire golf course. Believe me, I saw the entire course! In the future, I will be playing this course from the blues (6,593 yards) and the whites (6,045 yards). This is what I call a BIG golf course. It contrasts with the narrow fairways and tall trees of the Cariari Country Club course and the rocky steep elevations of the back nine at Rancho Las Colinas. The golfer who visits Costa Rica now has the pleasure of playing three championship golf courses, each with a distinct
Marriott Los Sueños Beach & Golf Resort

Central Pacific Coast
Par: 72
Yardage: 6,707
Slope: 140
Course Rating: 73.4
Architect: Ted Robinson Jr.

Yardage, slope & rating from Championship tees.

Price range $120


Costa Rica's Newest Gem

The new golf course in Costa Rica, Los Sueños, is all that we had expected from a Ted Robinson Jr. designed course. Having designed over a hundred courses around the world including Shiloe, the site of the 1998 PGA Championship, Ted has given us a course that few in the world can match for natural beauty and challenging golf. It is not uncommon for the guests of the Los Sueños Marriott to wrest their eyes away from the challenge of the golf course and just gaze up at one of the most picturesque settings on earth, a dense canopy of exotic plants, trees, and wildlife. Bordered by the Pacific Ocean on one side and rainforest on the other makes it a difficult task to concentrate on your golf game. If that isn't enough to distract you then there are a number of old magnificent trees that always seem to be between you and the area of the golf course you'd like to get to.

"It makes you think, it makes you play, it makes you drive the ball, it makes you position the ball. It's a shotmakers test of golf. It's a beautiful site and the type of course I'd enjoy experiencing every day of my life."
Philip Krick,Jr.
PGA, Director of Golf

Following is a brief Hole-By-Hole description of the course. As a general rule the Par 5's were not reachable in two from the tips but it may be possible from the regular tees. The challenge wasn't so much the distance of the holes but rather the doglegs and the position of many of the trees I mentioned earlier. The Par 3's were all between 172 and 190 with wind being the greatest factor.

I couldn't help but notice that the wind was either into our face or a crosswind, not once did we hit with the wind at our backs. One more factor to consider when playing Los Sueños is the rough which consists mostly of Mani (peanut) ground cover. This ground cover is about four inches high, is attractive with it's yellow flowers, loosely packed, but, it is very difficult to find your ball. You can play out of it if you do find your ball.

You'll enjoy this golf course and it's definitely worth taking more than one shot at. Los Sueños has come up with an idea that I think works very well for all the golfers on the course. They have what you would call a forecaddie that accompanies each group. The term "guide" is appropriate in this case as so much is to be seen besides the break of a putt. The charge for their services is entirely up to you, pay them whatever you feel their contribution to your golfing experience was worth.

Rental clubs are available.
Parque Valle del Sol

Santa Ana
Par: 35
Yardage: 6,542
Slope: 128
Course Rating: 72.2
Architect: Tracy May

Yardage, slope & rating from Championship tees.

Valle Del Sol
single rounds $30
tee time required saturday and sunday


Finally, a course in San José open to everyone! Avid golfers in San José have been eagerly awaiting the opening of the new Parque Valle Del Sol. The course is located fifteen minutes from San José near the town of Santa Ana, and is part of a golf course community being developed by the Brazilian company Habitasul. The property and golf course were initially developed by a North American in the late seventies. The course was never opened to the public and the owner and his friends were the only ones to play there. (Sort of a poor man's Steve Wynn with his exclusive Saddle Creek course in Las Vegas.) With this in mind, it is not difficult to understand why the gringo ran out of money before the project was completed and returned north a wiser but poorer individual.

In 1994, Habitasul brought in golf course architect Tracy May to re-design and build a new course. The results achieved by May are outstanding and we are halfway to a great 18 hole golf course. May, with the assistance of the on-site construction supervisor Mark Dinan, has designed the layout to be challenging and fair under most conditions, and downright tough when the winds come swirling down from the surrounding mountains.

These first nine holes are very diverse and require the use of all the clubs in your bag. The many mature trees that were part of the original course and the surrounding mountains create a great setting for golf.

We anticipate the opening of the second nine holes in February, 2001.

Rental clubs are available.
Royal Pacific Golf & Country Club

Playa Grande, Guanacaste
Par: 72
Yardage: 6,802
Slope: 122
Course Rating: 71.8
Architect: Ron Garl

Yardage, slope & rating from Championship tees.

Royal Pacific Golf & Country Club, a short drive from Conchal's Garra de León Golf Course, completed their 18 hole championship course in July of 1997. This Ron Garl designed course offers an interesting complement to the wide open spaces at Conchal.

The front nine is relatively flat with many of the holes following a river that borders the western edge of the course. Try not to let the Howler monkeys interfere with your game! In contrast, the back nine has steep fairways cut through rocky terrain that demand accuracy more than length. This is not to imply that it plays short, but rather the importance of keeping your ball in the fairway.

The course offers a lot of variety. It is challenging, and will reward conservative play more often than not. Carts included with greens fees.

Rental clubs are available.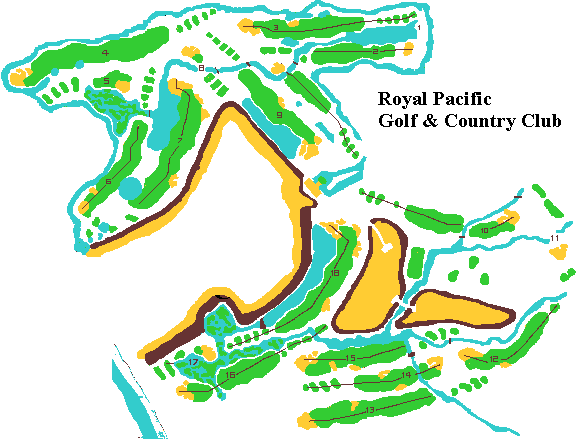 ---
[Home]
---