La Mansión - Come as a guest leave as a friend!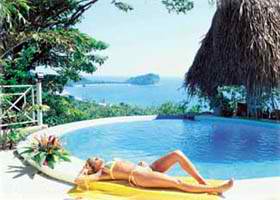 Welcome to La Mansion Inn, one of the most exclusive destinations in Central America. Located in Manuel Antonio, near Costa Rica's famous National Park, La Mansion is nestled in one of the last remaining "natural zoos" of the world. Combining this exotic setting with the finest foods, services and amenities available, we offer you the best of both worlds for your enjoyment.
Our small, romantic Inn is located only steps away from a beautiful and secluded beach. La Mansion Inn offers a magnificent view of the Pacific Ocean, Manuel Antonio National Park and the dense jungle. During your unforgettable stay, you may see an incredible variety of animals: monkeys, sloths, anteaters, large iguanas and "pizotes" and more than 200 species of birds. At night, the stillness around La Mansion is interrupted only by the song of the jungle and the gentle sounds of the Pacific. Built as a luxurious private residence, La Mansion Inn is an all-suite hotel that satisfies the most discriminating tastes. The Inn offers spacious, yet intimate areas for dining and relaxing. These include a patio with barbecue and an infinity swimming pool with Jacuzzi. You will be enveloped in luxury while you enjoying the natural beauty of Costa Rica's Pacific Coast. The suite rates include a complimentary fruit basket and a bottle of wine upon arrival. Also included in the daily rate are breakfast, lunch, coffee and tea service, and a wide variety of alcoholic and non-alcoholic beverages. Your host, Harry Bodaan (former co-owner of the nearby five-star El Parador hotel), has personally attended to hundreds of distinguished guests and celebrities such as Vanessa Williams, Elizabeth Taylor, Stephen Stills, Arnold Schwarzenegger, Ricky Schroder, Robert Redford, Don Johnson and Kevin Costner...to name but a few! We are confident that we can satisfy your needs as well!
The Inn
La Mansión Inn is situated on a mountainside overlooking the Pacific Ocean and Manuel Antonio National Park. The Inn is just minutes away from pristine beaches, sportfishing at Quepos harbor, and the local airport. We serve elegant Mediterranean design constructed by a team of Swiss architects and decorated by Italian interior designers. Our interior displays a wealth of original paintings by some of Costa Rica's top artists. An eco-friendly project, water at the Inn is heated by solar energy.
Our suites and rooms are anything but "standard". All are air conditioned and have bathrooms, a dresser, television, ceiling fan, outside sitting area and desks. Every room has sliding glass doors which open to incredible views of the Pacific Ocean and surrounding jungle.
Rooms
Deluxe Room - Beautifully decorated room with a king-size bed or two queen-size beds and all of our standard features.
Junior Suite - Suite with finely furnished separate living room, extra bathroom, king-size bed or two queen-size beds and all of our standard features.
Christopher Columbus Presidential Suite - Without a doubt one of the most tastefully and largest presidential suites in all of Costa Rica. Lavishly furnished, the bedroom comes with a Jacuzzi complete with 24 carat gold faucets, double headed shower, bidet, coffee-maker, first-class works of art, very large connecting balcony and a spectacular and unforgettable view of the Pacific Ocean.
Activities
Large pool with Jacuzzi
Cable TV in all suites
Beach only minutes away
Living Room with Library
All our rooms have telephones
Email Service
Concierge Service
Gourmet Dining
Gift Shop
On Call Medical Service
Whitewater Rafting
Sport fishing Charters
Mangrove Tours
Wave Runner Safaris
Sea Kayaking
Sunset Sailing
Jungle and Rainforest Tours
Horseback Riding
Charter Plane Service
Private Security
Airport Shuttle Service
Rates 2002
Room Type

High Season
Dec 23-Apr 30
Green Season
May 1-Dec 23
Standard
$175
$125
Deluxe Ocean View
$250
$150
Junior Suite Ocean View
$475
$275
Presidential Suite Ocean View
$1500
$1250
* All plus tax 16.39%
Xmas surcharge $50 per person