Upscale Private Club Subdivision
Naranjo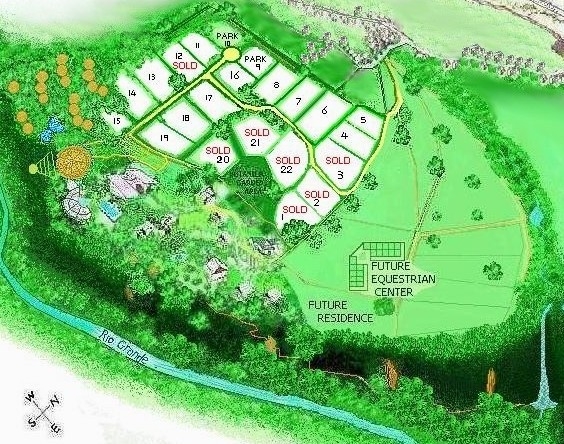 This is a limited development 20 minutes west of airport off pan am highway 1 mile south with incredible hotel facilities, lake, huge nature preserve open to lot owners
Priced at $35 sq meter which is very reasonable
FANTASTIC PHOTO GALLERY OF PROPERTY

Greetings from Vista Del Valle Plantation Estates!
Please forgive me if I seem a bit too wordy but we are very happy with our project and feel it's going to be something that will bring pleasure to many investors and be seen as an example to others.
Our little development:
First of all you can own your own property here in Costa Rica as a foreigner without a problem. Many Americans have their vacation property here and you can sell it or leave it for your heirs. It's a simple thing and is usually set up by being held in a Costa Rican Corporation to avoid excess transfer fees when it is turned over to someone else. We've followed what the Ticos do and have seen that it's the easiest and most economical way to do it. You can have a Lawyer do it for you and make the whole process smoothly via the internet. Several of our owners have done it this way and this summer several will be starting their homes.
FOR MORE INFO ON SETTING UP COSTA RICA OFFSHORE CORP SEE
www.orbitcostarica.com/absolute
We're still working on some of the final details on our project and I think that by next year you'll see a lot more changes as we complete the next faze. We've got three owners planning to start to break ground on their homes this coming year so it's pretty exciting for us. We've got the water hook ups in to all the lots already and soon will have the Electrical in. We've completed a drip system along all the trails and roads for all the new little trees and bushes we've planted. I am envisioning a tree lined canopy throughout the walking and riding trails and look forward to riding under the shade of those trees before too long.
We're presently waiting for the bids on the underground installation of the Electrical, Telephone, and possible TV Cable. We're excited about our project as we feel it's not only an ideal vacation destination, but a good investment with income potential. We aren't doing this just to maximize our profits, but because we plan to live here we want happy neighbors that want to be involved in a Sustainable Tourist Community. We're very involved here and love the interaction with our town. We're also proud of the fact that our town of Rosario won the coveted BLUE FLAG (BANDERA AZULE) rating for their work to have the best water in the country, and one of the cleanest (environmentally aware) towns. We have several recycle programs, and do town and creek clean up drives on a regular basis. I think they've done quite a job for a tiny pueblo.
We have two projects in one: the "Estates", and the "Nature Villas".
The Vista Del Valle Estates (home sites) will be for folks that want a little more space, individuality and the amenities of the resort and common areas.
The lots are quite big (1295.04 square meters to 3,446.31 square meters) and each one will have the feeling of being set inside a tropical garden. Our emphasis is to create a park like setting with private homes located inside. This will be a Gated Community with security. The homes will be built for the owners by our team of Architects and Contractors (or approved by the Architectural Commitee) and will be according to the needs and tastes of the owners. Of course there'll be a need for approval by the Community Architectural Commitee for all plans to maintain the integrity of the community. At this moment we've sold 7 home sites and have several pending so this is happening faster than we had anticipated. I'll send an attachment that shows the sizes and prices. The lot sizes are in meters so you'll have to convert. Lot #4 and #20 is pending.
Vista Del Valle Nature Villas is what we're calling the Condos. These Condos will be much more connected to the hotel and will be seen in some ways as an extension of the Hotel. These are the Pre-construction prices for the structures. The Architects are still working out the details, placement on the land, etc.
The pros: The owner has the first line of rentalbility through the hotel, and it's a "turnkey" type of deal. The inside room size is about 50 square meters per module (room for a king size bed) connected by roof and open air patio/deck areas.
The 1 bedroom Nature Villa will have 2 modules of inside space (with an option for a 2nd bedroom later).
The 2 bedroom Nature Villa will have 3 modules of inside space.

The cons: They are Condos, with no land beyond the actual structure, no room for individual expansion, design changes, or individual expression, etc. These are to be essentially "Luxury Hotel suites" and for better or worse will be close to the "action" (the hotel and restaurant). It's a matter of what works for the buyers.
Our hotel is full and we've had to refer folks to other hotels because we have had no openings. Wish we had more rooms now.
The pre-construction prices for the Nature Villas are to be as follows:
A. 1 bedroom unit (bedroom + living/kitchen unit with the option of adding the 2nd bedroom later) $125,000.
B. 2 bedroom unit with the living/kitchen (3 modules total) $155,000
C. Single room delux units (not for sale).
The regulating body requires that we do either single units (strictly bedroom suites) or 2 bedroom units with a kitchen/living unit (3 modules). We can fudge a bit on "A" by not building the 2nd bedroom right away but we
are limited by the location. The difference is that the (A) kitchen unit with one bed room is to be placed in a location that allows the 2nd bedroom to be added later, so the land footprint is included (with purchase) to build the 2nd bedroom module at a later time.
The pros: No maintenance headaches, no gardening, Just the enjoyment of your unit and the rental income when you're not there.
We have been working on and now have a nearly finished set of CC&Rs (otherwise known as the community building code and homeowner's agreement). It was taken from one of the big resort communities here in the country. It is a comprehensive set of rules and regulations that would be enforceable. The resort is the Playa Conchal Golf resort (now known as Hotel Paradisios Resort and Garra de Leon Golf resort). We've taken extreme care to see that our CC&Rs protect the owners for both projects, and maintain a strict tourist resort community where the owners will enjoy all the amenities of the Hotel/Resort and protect the natural environment as well.
Harold 011-506-8271314