| | |
| --- | --- |
| Jim Belsuhi | MY NAME IS EDDIE BROWN AND I HAVE LIVED ALONG THE BARRA WHICH MEETS THE CARIBBEAN FOR THE LAST 48 YEARS FROM THE TIME I WAS BORN. I STARTED FISHING WITH MY DAD AT THE AGE OF 6 YEARS OLD. I CA N SAY WITH PRIDE THAT NO ONE IN COSTA RICA KNOWS THE JOB OF BEING A FISHING GUIDE BETTER THAN I DO. I HAVE BEEN GUIDING TOURISTS AND FISHERMAN FOR THE LAST 35 YEARS. I HAVE TAKEN THOUSANDS OF ANGLERS OUT IN THE RIVERS AND THE OCEAN ALONG MY HOME FROM RANK BEGINNERS TO WORLD FAMOUS EXPERTS FROM THE ESPN FISHING DOCUMENTARIES LIKE MARC SOSSIN AND BOB STERN AND LEFTY KRAY. TED WILLIAMS AND JIM BELUSHI ALONG WITH THE PRESIDENT OF COSTA RICA HAVE BEEN IN MY FISHING CAMP AND BOAT. |
MY FAMILY AND I WILL WELCOME YOU WITH THE PRIDE OF COSTA RICAS BEST FISHING AREA WHICH IS CONSIDERED THE NUMBER ONE PLACE IN THE WORLD FOR TARPON AND SNOOK. THE BEST MONTHS FOR COMMON SNOOK IS FROM AUGUST TO NOVEMBER.
THE BEST MONTHS FOR FAT SNOOK KNOWN IN SPANISH AS CALVA IS FROM NOVEMBER TO FEBRUARY. TARPON. WAHOOS, TUNA, BARRACUDA, JACK ARE YEAR ROUND.
I GUARANTEE THAT YOU WILL EVEN THE NOVICE FISHERMAN WILL HAVE AN OUTSTANDING OPPORTUNITY TO EXPERIENCE ONCE IN A LIFETIME CATCHES.
OUR PRICE IS $250 PER DAY PER PERSON FOR FULL DAY
OUR PRICE IS $150 PER DAY PER PERSON FOR HALF DAY
IF MORE THAN 2 PERSONS WE REDUCE THE PER PERSON COST
JUST LET US KNOW YOUR NEEDS. WE WELCOME YOU TO COSTA RICAS HIDDEN JEWEL OF THE TORTUGUERO AND BARRA FISHING PARADISE.


Eddie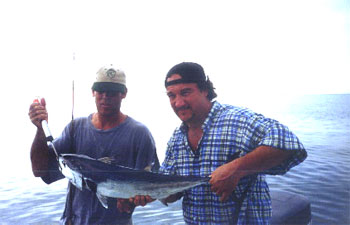 Jim Belushi fishing at Barra del Colorado

I USE 22 FOOT V HULL INTRUDER BY CAPITAN PETE MACKIN TO BEST UTILIZE THE VARIOUS ENTRIES TO ALL THE RIVER MOUTHS AND OFFSHORE ON THE OCEAN. MY BOAT IS EQUIPPED WITH TWIN 80 HP 4 STROKE YAMAHA ENGINES WITH FULL EQUIPMENT TO CATCH THE BIG ONES. I SUPPLY COMPLETE TACKLE AND ALL NEEDS. COME VISIT AND SEE IF YOU CAN QUALIFY FOR A GRAND SLMA. MANY OF OUR CLIENTS HAVE ENJOYED THIS FEAT. IF A LARGER BOAT IS REQUIRED JUST LET US KNOW.
Click here for more Pictures from Eddie's Fishing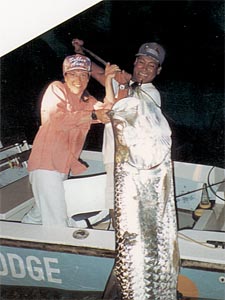 FISHING IN THE COSTA RICA ATLANTIC COAST

Snook and Tarpon are recognized world wide as Costa Rica specialty. The north east area around Tortuguero and Barra are where to get them.

In the past most of the tarpon action in the area was in the rivrs and backwaters but now with more seaworthy boats equipped with radios and electronics, anglers can get thru the river mouths to find tarpon for what looks like square miles of them.
Many times every cast will almost land a tarpon.

The big snooks are caught fishing from the beach around the river mouths mostly on jigs. Also trolling on jigs close to shore.

Most of the lodges now have 23 ft. center consoles and you can get outside the channels for not only tarpon but the blue water species like sails, blue marlin, wahoo, dorado, barracuda, kingfish, spanish mackeral, jack, grouper, snapper.

There is a canyon that drops from 260 ft. to about 1200 ft. about 30 minutes run from the Barra mouth . This is a dream come true for the real fishermans. On the inside you can fish light tackle for rainbow bass, mojarra, vieja, drum , gar, fat snook. There is a speices of snook that run 4 to 8 lbs that move into the rivers for 4 months every year and catches of 25 a day are not uncommon.

PERFECT HOOKER
39' Eclipse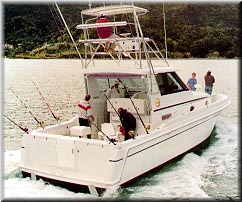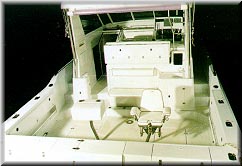 Powered by twin 300 hp Cummins Turbo Diesels which permit the cruising speed of 24 knots with a top speed of 30 knots. The vessel is totally customized with top of the line equipment, Rupp outriggers, Cannon downriggers, 50 gal. live bait tank, 2 sets of 4 tuna tubes powered by 1 1/2 hp swimming pool pumps, electric teaser reels, electric chum grinder, and 2 each VHF radios, GPS's and fish finders.
The vessel has 6 KW Northern Lights generator, air conditioning, galley, microwave, head and shower unit with hot water and 600 gal/day water maker.
Home port is Golfito, but available for charter anywhere else in Costa Rica or Panama on the Pacific. Rods are custom built and equipped with Shimano TLD's for 2lb. to 20lb. line, Penn Int. 2 speed reels for 30 and 50 lb. line and Fin-Nor for 80lb. line. All fly rods are fitted with Billy Pate fly reels. We have 3 identical sets of rod and reel for each line class 2 to 8 lb.. We have 5 identical for 12 to 80 lb.. We use tournament grade Ande Line, which we change whenever it does not test as new on our electronic line tester.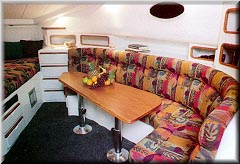 All terminal tackle is premium quality and we have more than 300 lures and carry 5 flying gaffs with up to 16inch hooks, 2 custom gaffs for fly, tail ropes, west weigh electronic scales and 1,500 lb. black and tackle for those after a record.
We release all billfish with the exception of potential world records or qualifiers for IGFA 20 to 1 club.
Rates
| | |
| --- | --- |
| Full Day | $850 |
| 3 Full Days | $2400 |
| 5 Full Days | $3750 |
References
From: RVal16011@aol.com
To: mail@orbitcostarica.com

Dear Harold:
Just a note to thank you for informing us about the fishing boat and the accommodations in Golfito, Costa Rica. Our trip went extremely well as all reservations and accommodations were better than expected. We especially enjoyed the boat we fished on for three (3) days. The boat was called the Happy Hooker. It is probably one of the most beautiful, well equipped boats we have ever fished from. We were especially pleased with the Captain and his crew. They were all very friendly, accommodating, and knowledgeable. The fishing was great also. If you see the crew of the Happy Hooker any time soon, please give them our regards and tell them we look forward to fishing with them again in the near future.
Thanks again,

Sincerely,
Bob Valenzuela
Graphic Consultants INC.
16011 Parthenia St.
North Hills, California, USA
---
From: EWEpp@aol.com <EWEpp@aol.com>
To: mail@orbitcostarica.com <mail@orbitcostarica.com>
Date: Saturday, June 05, 1999 4:30 PM
Subject: Re: FABULOUS!

Sorry so tardy in replying to your mail. Our trip on the Perfect Hooker was without fail one of the best fishing charters. Captain Yens and crew were extremely helpful, accomodating, and knowledgeable. We fish the Florida Gulf and Atlantic quite a bit and were very please with this charter. The vessel was beyond expectations and we were all very pleased with our catch. Hope to return another time to go for Marlin and/or Tuna.
Our visit to Costa Rica was fabulous! We hope to return very soon. The car rental company was very helpful and convenient, and provided no problems coming or going. Our only complaint was that we did not have enough time to do everything.

Thank you for your help and advice. We were very impressed at how easy everything was. You will be the first that I contact on our return trip.

Thank you, Thank you!!!!
Susan and Edward Epp
Tallahassee, FL
---

For more information, please contact: mail@orbitcostarica.com
---
[Home]
[Tours]
[Restaurants]
[Packages]
[Car Rentals]
[Discount Air Tickets]
[References]
---