Fishing with Capitan Adam Hermsen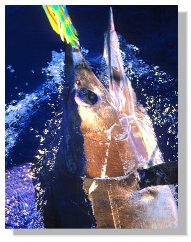 Due to the close vicinity of the Continental Shelf, or Drop-Off, boats based out of Playa Tamarindo provide Anglers with more time for trolling and less time for running to and from the Offshore Fishing Grounds....we seldom have to run far off the beach to tangle with Big Marlin, Sailfish, or Giant Tuna!

The numerous Inshore Reefs that litter the coastline provide steady action on a whole variety of Gamefish like: Wahoo, Dorado, Yellowfin Tuna, Bonita, Cubera Snapper, Jack Crevelle, Travally Jack, Roosterfish, Sierra Mackeral, Pompano, Trigger Fish, and various types of Grouper & Red Snapper.

Big Black Marlin in the 400-800lb. range can also be found just a few miles off the beach fishing around the famous Tamarindo Reef, slow trolling live Bonita.

Trophy size Sailfish in the 150-200lb range are abundant in and around Playa Tamarindo year round....and running across double digits numbers on Sailfish is common!

Marlin average between 250-600lbs in the waters surrounding Tamarindo, and each year a few record size Blue or Black Marlin in the 800-1000lb range are fought and released! If you desire the ultimate challenge of hooking multiple Marlin in one day or seek out a chance at a "Grand Slam" on Marlin species, then look no further!

Giant Yellowfin Tuna in the 250-350lb. range are found during many months out of the year along Costa Rica's northern zone....Playa Tamarindo provides some of the best action for chasin down the famous tackle-bustin mosters of the sea, or "Cow Tuna!"
Although we have excellent fishing YEAR ROUND, Sportfishing can be more consistant throughout certain months of the year.

December- March..... One of our peak seasons for Marlin in and around Playa Tamarindo where we see an increased volume of Blue Marlin, Black Marlin, and Striped Marlin. With Sailfish also added into the mix, these months are considered prime for chasin down the Grand Slam on Billfish Species!

APRIL - AUGUST..... Large numbers of Sailfish, Dorado, and Tuna make a presence Inshore and Offshore during these months. June, July, and August also mark a second run of Marlin through the area, including the presence of Big Black Marlin which can be found along the inner reefs by slow trolling live Bonita.

Giant Yellowfin Tuna are best found during the months of August, September, October, and November. Large groups of Tuna can be found migrating with the different Dolphin/ Porpoise species Offshore and are best hooked by trolling lures, dropping jigs, or live-baiting around the Dolphin packs. Giant Tuna also inhabit the waters during other months and quite often Blind Jig-Strikes can occur at any given time throughout the year!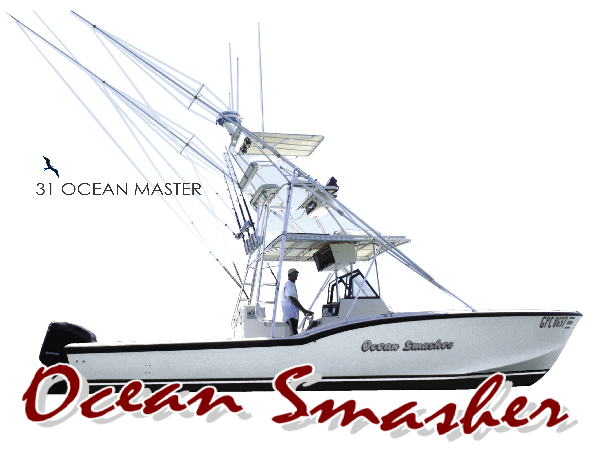 Get on the bite fast & in style!!!
CR Gamefish Sportfishing is proud to provide Offshore Sportfishing with one of the finest boats made today....the 31ft. Ocean Master.

"Ocean Smasher" is a professionally rigged Ocean Master with state of the art electronics and the finest in fishing tackle. Twin 225HP Outboards, 2 VHF radios, 3 GPS units/ 2 color chartplotters, 24NM radar, color fishfinder, cell phone, auto pilot, Rupp tuna tower & outriggers, Shimano Tiagra 2-speed reels, Calstar Graphiter trolling rods, a full assortment of "Sumo Tackle" stand-up harnesses & fighting belts, a Laydown/Rest Area, Bathroom/ toilet, First-Aid Kit, and all the necessary emergency/ safety equipment onboard.

We invite you to relax and feel the freedom to move around... With its large Open Center Console design, 10ft. wide Cockpit area, & 360 degrees of walk around deck space, the 31 Ocean Master truly takes top honors in providing enough room to fish comfortabley!

Its a Fact- "Ocean Smasher" is by far one of the fastest sportfishing boats in Northern Costa Rica and has the reputation of getting Anglers on the fishing grounds in short time! For many, that extra 20 minutes means everything when it comes to fishing and we all know that great catches can occur during the final minutes of the day. We strive to be the first of boats to arrive on the scene and plan on being the last boat to pack it up and head back home for the day!

Capt. Adam Hermsen is a Licensed and experienced professional who provides the up-most attention to each and every client onboard. With conservation as a goal to help protect the marine environment, Capt. Adam promotes "Catch & Release" with all Billfish and recomends taking only what you can eat with food species so that most fish are left unharmed and free to catch another day. CR Gamefish Sportfishing highly practices the use of circle hooks.

PROFESSIONAL SERVICE, STATE OF THE ART EQUIPMENT, SPEED AND COMFORT..... WHY SETTLE FOR ANYTHING LESS?

Come experience "World Class" fishing under the tropical sun of Costa Rica and let our experienced Captain and Crew make all your dreams of fishing in paradise come true!
SPORTFISHING PRICES
1/2 Day............$550.00
Full Day............$925.00
payment in advance required of 50%
-Maximum 6 Persons Per Day.

-Charters include all tackle, bait, ice, and refreshments. Full Day trips include snacks, lunches, and beverages.

-We recomend Full Day trips offshore for targeting Billfish and Giant Tuna.

-Please bring your own ultra-light and Fly Fishing tackle and gear.

-CR GAMEFISH is a fully Licensed and Insured company. All the necessary safety, first-aid, and emergency equipment are carried onboard.

-Playa tamarindo is easily accessed from the International Airport in Liberia (LIR), which is just an hours drive from the North. Daily connecting flights can also be found from San Jose International Airport (SJO) to Playa Tamarindo with Sansa Airlines (www.flysansa.com).
Welcome to Kingpin Sportfishing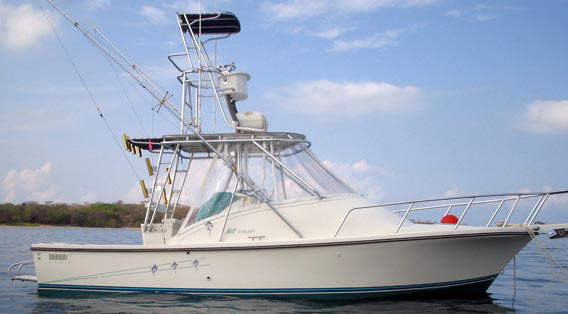 "We thoroughly enjoyed fishing with you and Mario on Nov 29th; It was the highlight of our trip. We'll definitely be bragging you up to our friends."
Happy Sails, Bob and Carol Harvat

Located on the Nicoya Peninsula's "Gold Coast", Tamarindo offers sport fishermen one of the best location for deep sea fishing in Costa Rica. The highly active and easy to reach fishing grounds offer great year-round action with wahoo, sailfish, tuna, dorado, marlin, roosterfish, snapper


We recommend a maximum of four anglers and provide top quality "Stand-up" sportfishing gear and Shimano and Penn International Reels. We carry the latest in offshore fishing tackle and feature a full line of Hatteras and Eye Catcher lures.

USCG Captain Lee Keidel and his professional crew will exhaust every effort to put you on the big ones and insure that your day is fun, safe and as productive as possible. Full Day charters are recommended when targeting marlin and other billfish. Lunch is provided on full day charters and beer, water, soft drinks and snacks are provided on all charters.

KINGPIN Sportfishing practices "responsible angling". All billfish are catch and release, period. A release mount can be ordered if needed.

We also can arrange to have your catch prepared at one of our local fine restaurants in Tamarindo.


Sportfishing Seasons:
Tamarindo fisheries maintain a high level of activity all year round. The following outline is a very "broad" display of our yearly sportfishing season and conditions: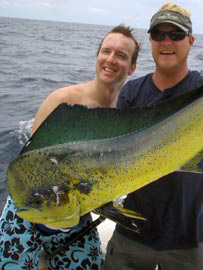 April-August
Calm Seas
GOOD Billfish bite
STRONG tuna, dorado and wahoo bite
September & October
Calm Seas
Big Tuna & possibly heavy rains
The fishing is generally good
November-March
Calm-Heavy Seas
Marlin, Sails, Tuna, Dorado
This is BILLFISH season! If you want to catch that trophy billfish this is the time to come.
The winds can be strong and the runs longer but the fishing is amazing!

Pricing:
Full Day Charter*: US$ 725.00
3/4 Day Charter: US$ 600.00
Half Day Charter: US$ 450.00
full day $725
*Lunch Provided
Beer, Water, Snacks, Sodas provided on all charters.
All Charters depart at 7:30 A.M. from the beach in front of the "El Pescador" Restaurant located just past the "Circle" in Tamarindo.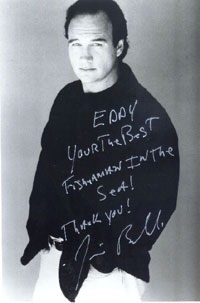 Jim Belsuhi
MY NAME IS EDDIE BROWN AND I HAVE LIVED ALONG THE BARRA WHICH MEETS THE CARIBBEAN FOR THE LAST 48 YEARS FROM THE TIME I WAS BORN. I STARTED FISHING WITH MY DAD AT THE AGE OF 6 YEARS OLD. I CAN SAY WITH PRIDE THAT NO ONE IN COSTA RICA KNOWS THE JOB OF BEING A FISHING GUIDE BETTER THAN I DO. I HAVE BEEN GUIDING TOURISTS AND FISHERMAN FOR THE LAST 35 YEARS. I HAVE TAKEN THOUSANDS OF ANGLERS OUT IN THE RIVERS AND THE OCEAN ALONG MY HOME FROM RANK BEGINNERS TO WORLD FAMOUS EXPERTS FROM THE ESPN FISHING DOCUMENTARIES LIKE MARC SOSSIN AND BOB STERN AND LEFTY KRAY. TED WILLIAMS AND JIM BELUSHI ALONG WITH THE PRESIDENT OF COSTA RICA HAVE BEEN IN MY FISHING CAMP AND BOAT.
MY FAMILY AND I WILL WELCOME YOU WITH THE PRIDE OF COSTA RICAS BEST FISHING AREA WHICH IS CONSIDERED THE NUMBER ONE PLACE IN THE WORLD FOR TARPON AND SNOOK. THE BEST MONTHS FOR COMMON SNOOK IS FROM AUGUST TO NOVEMBER.
THE BEST MONTHS FOR FAT SNOOK KNOWN IN SPANISH AS CALVA IS FROM NOVEMBER TO FEBRUARY. TARPON. WAHOOS, TUNA, BARRACUDA, JACK ARE YEAR ROUND.
I GUARANTEE THAT YOU WILL EVEN THE NOVICE FISHERMAN WILL HAVE AN OUTSTANDING OPPORTUNITY TO EXPERIENCE ONCE IN A LIFETIME CATCHES.
OUR PRICE IS $250 PER DAY PER PERSON FOR FULL DAY
OUR PRICE IS $150 PER DAY PER PERSON FOR HALF DAY
IF MORE THAN 2 PERSONS WE REDUCE THE PER PERSON COST
JUST LET US KNOW YOUR NEEDS. WE WELCOME YOU TO COSTA RICAS HIDDEN JEWEL OF THE TORTUGUERO AND BARRA FISHING PARADISE.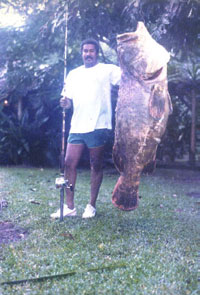 Eddie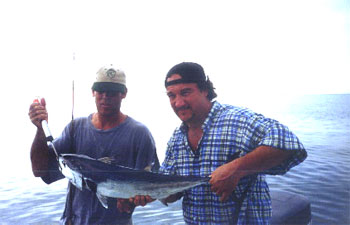 Jim Belushi fishing at Barra del Colorado

I USE 22 FOOT V HULL INTRUDER BY CAPITAN PETE MACKIN TO BEST UTILIZE THE VARIOUS ENTRIES TO ALL THE RIVER MOUTHS AND OFFSHORE ON THE OCEAN. MY BOAT IS EQUIPPED WITH TWIN 80 HP 4 STROKE YAMAHA ENGINES WITH FULL EQUIPMENT TO CATCH THE BIG ONES. I SUPPLY COMPLETE TACKLE AND ALL NEEDS. COME VISIT AND SEE IF YOU CAN QUALIFY FOR A GRAND SLMA. MANY OF OUR CLIENTS HAVE ENJOYED THIS FEAT. IF A LARGER BOAT IS REQUIRED JUST LET US KNOW.
Click here for more Pictures from Eddie's Fishing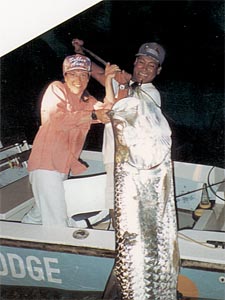 FISHING IN THE COSTA RICA ATLANTIC COAST

Snook and Tarpon are recognized world wide as Costa Rica specialty. The north east area around Tortuguero and Barra are where to get them.

In the past most of the tarpon action in the area was in the rivrs and backwaters but now with more seaworthy boats equipped with radios and electronics, anglers can get thru the river mouths to find tarpon for what looks like square miles of them.
Many times every cast will almost land a tarpon.

The big snooks are caught fishing from the beach around the river mouths mostly on jigs. Also trolling on jigs close to shore.

Most of the lodges now have 23 ft. center consoles and you can get outside the channels for not only tarpon but the blue water species like sails, blue marlin, wahoo, dorado, barracuda, kingfish, spanish mackeral, jack, grouper, snapper.

There is a canyon that drops from 260 ft. to about 1200 ft. about 30 minutes run from the Barra mouth . This is a dream come true for the real fishermans. On the inside you can fish light tackle for rainbow bass, mojarra, vieja, drum , gar, fat snook. There is a speices of snook that run 4 to 8 lbs that move into the rivers for 4 months every year and catches of 25 a day are not uncommon.

MANUEL ANTONIO QUEPOS FISHING
BLUEFIN I
26 Foot Custom Sportfisher, 250 HP Inboard Cummins, tower with full controls, IGFA Tackle, Penn International Reels, LEE Fighting Chair, cabin with a bed, Marine Toilet, Captain and Mate with many years of experience in Fly Fishing, and Catch & Release.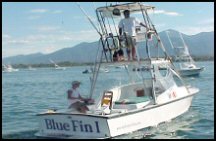 BLUEFIN II
28 Foot Custom Sportfisher, 315 HP Inboard Cummins, tower with full controls, IGFA Tackle, Penn International Reels, LEE Fighting Chair, cabin with a bed, Marine Toilet, Captain and Mate with many years of experience in Fly Fishing, and Catch & Release.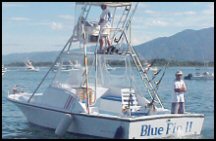 BLUEFIN III
33 Foot Boston Whaler, Twin 315 HP Cummins, tower with full controls, IGFA Tackle, Penn International Reels, LEE Fighting Chair, fully equiped cabin, Marine Toilet, Captain and Mate with many years of experience in Fly Fishing and Catch & Release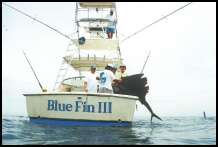 QUEPOS BASED ALL INLCUDED FOOD, TACKLE, PICKUP AT HOTEL IN MANUEL ANTONIO
8 HOUR ALL DAY OFFSHORE
| | |
| --- | --- |
| blue fin 1 | 695 |
| blue fin 2 | 795 |
| blue fin 3 | 945 |
mail@orbitcostarica.com
or call 506-88271314 in costa rica

PLEASE REFER TO THIS SPECIFIC BOAT IN EMAIL
LET US KNOW NUMBER IN PARTY AND DATES
YOU WILL CATCH FISH
mail@orbitcostarica.com

PERFECT HOOKER
39' Eclipse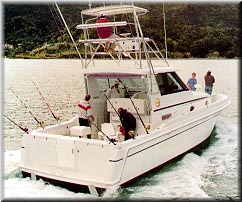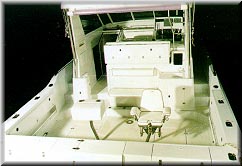 Powered by twin 300 hp Cummins Turbo Diesels which permit the cruising speed of 24 knots with a top speed of 30 knots. The vessel is totally customized with top of the line equipment, Rupp outriggers, Cannon downriggers, 50 gal. live bait tank, 2 sets of 4 tuna tubes powered by 1 1/2 hp swimming pool pumps, electric teaser reels, electric chum grinder, and 2 each VHF radios, GPS's and fish finders.
The vessel has 6 KW Northern Lights generator, air conditioning, galley, microwave, head and shower unit with hot water and 600 gal/day water maker.
Home port is Golfito, but available for charter anywhere else in Costa Rica or Panama on the Pacific. Rods are custom built and equipped with Shimano TLD's for 2lb. to 20lb. line, Penn Int. 2 speed reels for 30 and 50 lb. line and Fin-Nor for 80lb. line. All fly rods are fitted with Billy Pate fly reels. We have 3 identical sets of rod and reel for each line class 2 to 8 lb.. We have 5 identical for 12 to 80 lb.. We use tournament grade Ande Line, which we change whenever it does not test as new on our electronic line tester.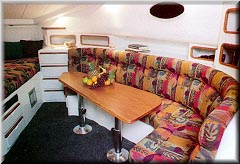 All terminal tackle is premium quality and we have more than 300 lures and carry 5 flying gaffs with up to 16inch hooks, 2 custom gaffs for fly, tail ropes, west weigh electronic scales and 1,500 lb. black and tackle for those after a record.
We release all billfish with the exception of potential world records or qualifiers for IGFA 20 to 1 club.
Rates
| | |
| --- | --- |
| Full Day | $850 |
| 3 Full Days | $2400 |
| 5 Full Days | $3750 |
References
From: RVal16011@aol.com
To: mail@orbitcostarica.com

Dear Harold:
Just a note to thank you for informing us about the fishing boat and the accommodations in Golfito, Costa Rica. Our trip went extremely well as all reservations and accommodations were better than expected. We especially enjoyed the boat we fished on for three (3) days. The boat was called the Happy Hooker. It is probably one of the most beautiful, well equipped boats we have ever fished from. We were especially pleased with the Captain and his crew. They were all very friendly, accommodating, and knowledgeable. The fishing was great also. If you see the crew of the Happy Hooker any time soon, please give them our regards and tell them we look forward to fishing with them again in the near future.
Thanks again,

Sincerely,
Bob Valenzuela
Graphic Consultants INC.
16011 Parthenia St.
North Hills, California, USA
---
From: EWEpp@aol.com <EWEpp@aol.com>
To: mail@orbitcostarica.com <mail@orbitcostarica.com>
Date: Saturday, June 05, 1999 4:30 PM
Subject: Re: FABULOUS!

Sorry so tardy in replying to your mail. Our trip on the Perfect Hooker was without fail one of the best fishing charters. Captain Yens and crew were extremely helpful, accomodating, and knowledgeable. We fish the Florida Gulf and Atlantic quite a bit and were very please with this charter. The vessel was beyond expectations and we were all very pleased with our catch. Hope to return another time to go for Marlin and/or Tuna.
Our visit to Costa Rica was fabulous! We hope to return very soon. The car rental company was very helpful and convenient, and provided no problems coming or going. Our only complaint was that we did not have enough time to do everything.

Thank you for your help and advice. We were very impressed at how easy everything was. You will be the first that I contact on our return trip.

Thank you, Thank you!!!!
Susan and Edward Epp
Tallahassee, FL
---

For more information, please contact: mail@orbitcostarica.com
---
[Home] [Tours] [Restaurants] [Packages] [Car Rentals] [Discount Air Tickets] [References]
Fishing in Costa Rica
(c) Copyright 2000 www.orbitcostarica.com
---