Orbit Opinion: Tourists give off very mixed signals on this resort

Melia Palaya Conchal is located in the provinceof Guanacaste in the northwest section of the country, bordering the pacific Ocean. Today, visitors can purchase Guaitil pottery in Santa Cruz, made in the ancient Chorotega traditional and even enjoy a few potery lessons from local artisans.
The area is known for its spectacular beaches. Conchal is considered by many to be the most beautiful white-sand beach in Costa Rica.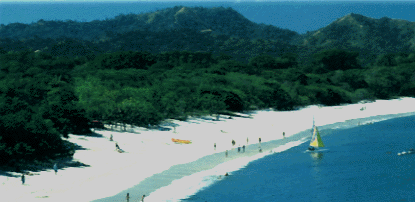 Melia Playa Conchal is the largest and most opulent resort in the country, offering the highest levels of distinguished service. From the moment you check in, you are aware that you have entered a rarefied world of graciousness and privilege. The resort resembles an elegant, modern village, with its villas, rooms and facilities focused upon an impressive free-form pool. The white-sands of Conchal are just steps from your door, as is championship golf. Every conceivable amenity is yours to experience, in a setting that is among the most breathtaking in the world. Yet this captivating resort is located just 45 minutes from Guanacaste International Airport and 15 minutes from the local airport. Nestled between the resort towns of Tamarindo and Flamingo, Melia Playa Conchal is a four-hour scenic drive from the capital city of San Jose.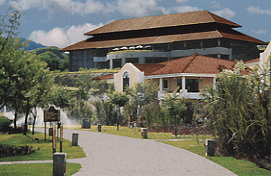 The hotel offers 308 deluxe bungalow suites and two master suites. The guest room suites are situated in 39 two-story private bungalows, each with eight suites. All suites have a spacious terrace, elegant living room area, air-conditioning, lavish bath, satellite color TV, IDD telephone, fully-stocked mini-bar, ceiling fans, hair dryer, and safe-deposit box. And of course, room service with a wide selection of snacks and meals is available around the clock.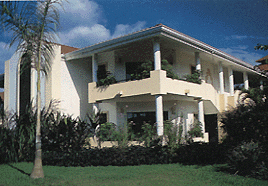 If you are accustomed to world-class standards of service and luxury, then you will feel right at home at Melia Playa Conchal. Our staff is superbly trained and multilingual, providing you with a level of service that is simply unsurpassed by any resort on the face of the earth. Yet the atmosphere at this enchanting resort is casual and relaxed. Melia Playa Conchal combines the best of both worlds, distinguished service and informal elegance.

Rates:


| | | | |
| --- | --- | --- | --- |
| | Jan 5 / Apr 11 | Apr12 / Dec 19 | Dec 20, / Jan 4 |
| Property View | $185 | $179 | $350 |
| Golf Camp View | $215 | $209 | $400 |
| Sea View | $265 | $259 | $500 |
| Master Suite | $600 | $500 | $1500 |
| | | | |
| --- | --- | --- | --- |
| | Jan 3/ Apr 23 | Apr 24/ Dec 17 | Dec 18, / Jan 2, |
| Property View | $215 | $199 | $265 |
| Master Suite | $700 | $550 | $770 |

Daily room rates
Plus 16.39 % taxes
Extra Person $25 plus taxes
Maximum capacity per room, 3 adults or 2 adults & 2 kids
---
[Home]
[Guanacaste Hotels]
---