Orbit Opinion: Photos better than reality
Caution: - Only practical way to get there is across the ferry which sometimes kills half a day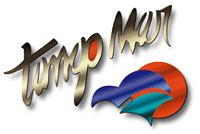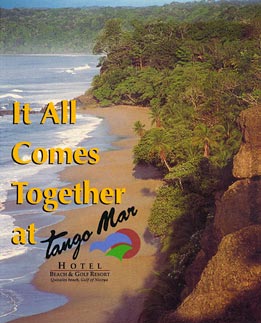 Pause and consider the place perceived in your mind's eye. Perhaps it is a vision of sea and sky, tropical brilliance fresh and unspoiled as a new dawn.
There is such a place. To the discoverers of the New World it was, aptly, "Rich Coast." You will discover it and call it Costa Rica.
Whatever picture you have of experiencing such a place, Tango Mar is where your dreams and desires all come together. Located on a 150-acre private beachfront reserve along the Nicoya Peninsula on the Pacific Coast, Tango Mar offers the intimate exclusivity of a small, deluxe beach resort and country club on a vast site where you can find a space to call your own and be sure of accommodations to suit every style and taste.
Our beachfront rooms are generously proportioned with two queen beds, or an elegant handcarved king canopy bed and step-down whirlpool bath. All have wet bar, mini bar, full private bathroom with walk-in shower, air conditioning and satellite TV. Glass doors to the private balcony open wide to welcome the refreshing ocean breeze and soothing sounds of surf. From your room you can be on the beach in seconds.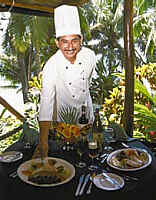 Our hilltop Tropical Suites sport a unique elliptical design, each room having a handcarved king canopy bed with lace bedding, garden tub jacuzzi, etched glass windows, air conditioning and satellite TV. Each cluster of three units shares a sun deck with chaise lounges. Prolific plantings surround each cluster in lush privacy.
Enjoy luxury accommodations in a class of their own ­ Tango Mar's Tiki Suites are Polynesian-style thatched roof units faced with Caña Brava, standing on columns and looking out to the beach through a palm garden. Each of the five units has king bed, spacious private bath, air conditioning, kitchenette, garden tub jacuzzi and a stained glass dome window.
A number of private villas are available for rent including the grand Presidential Villa with its four suites, full kitchen, dining room, an entertainment and family room and private swimming pool and garden. Each suite features elegant furnishings, accented by original art, hand carved king canopy beds, and state-of-the-art video and sound system. Golf carts and a maid are assigned to the Villa. Riding stables and golf are located nearby and the Villa commands an excellent hilltop view over the ocean and the resort's pastoral hills.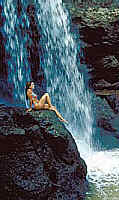 In the restaurant, light international gourmet cuisine and international wines are served professionally in a casual yet romantic open air setting. For lunch and refreshment throughout the day at the beach or seaside pool, the Bamboo Bar and Grill serves drinks, sandwiches, salads and light fare right to your favorite chaise.
Two private beaches have over a mile of sand for walking and sunbathing. Venture along the cliffs to the Mirador for a breathtaking panorama of beach and ocean. Then explore the coastline and a sign-posted nature trail on a visit to a nearby cove where you will discover a 40-foot waterfall bursting through a cliff into the natural ocean pool below.
Enjoy a game of tennis during the day or evening on the illuminated courts at Tango Mar. Or do what most other people do ... laze amid the beautiful surroundings of the spring-fed swimming pool set in a picture-perfect jungle garden of exotic plants and trees.
Golf is an added attraction. Laid out over gently rolling grounds and across the cliffs above the ocean, the resort's neatly groomed, 9-hole par 3 and 4 Executive Golf Course gives you a great day's play in the tropical surroundings of palm trees and exotic birds.



Room type
Apr 16, 1999 -
Dec 15, 1999
Dec 16, 1999 -
Apr 15, 2000
Apr 16, 2000 -
Dec 15, 2000
Ocean front rooms

$90

$138

$115

Tropical Suites

$115

$150

$130

Tiki Suites

$165

$190

$180

Rates per night,per complete village(double occupancy)
Rates include American Breakfast
Taxes not included (16,39% plus)
Additional person $15 per night
For bookings of 5 or more nights 20% discount apply
---
[Home]
[Guanacaste Hotels]
---