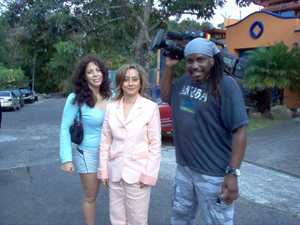 Angela Jimenez with film crew of House Hunters
HGTV

House Hunters asked around for a buyers broker in Costa Rica and sent this
crew and director down to film Angela at 3 locations (Avalon, Vivicon at
Lilia, and Prados Oeste)

Angela uses her experience of 22 years to make sure the buyer understands
the market in Costa Rica and does not overpay
COSTA RICA NATIONWIDE REAL ESTATE
listings from our partners
16 hotel owners all over Costa Rica
SPEND A NIGHT FIND OUT THE REAL FACTS
5 BED LUXURY HOUSE PRIVATE COMMUNITY $450,000
50 acre beachfront titled Jaco $40 m2
Marbella Development Beachfront
95% discount from escazu price but close to escazu 8 acres
Lot Escazú Guachipelín

Perez Zeledón Finca
Dancing Butterflys subdivison Puriscal
NICOYA 9000 ACRES
PRICE LESS $500 ACRE
ESCAZU TOWNHOUSE 200 METERS
$750 MONTH UNFURNISHED
Atrium House San Jose East near Terra Mall
Escazu Treehouse Villas Rental
Santa Ana Waterfall House sold
Upscale Private Club Subdivision
Naranjo sold
Atenas Nature Houses sold
View lot 1270 meters San Antonio Escazu sold
River Setting Escazú House sold
Santa Ana Rental House Exclusive Area sold
Grecia Properties sold
Tambor Beach House Tango Mar Resort sold
---
From: "Paul Avalone" <paulie603@hotmail.com>
To: <mail@orbitcostarica.com>
Sent: Tuesday, July 03, 2007 10:33 PM
I recently retired to Costa Rica and rented sight unseen by email a wonderfull condo in Avalon in Santa Ana from Angela and Harold of Orbit Travel. They did exactly what they promised and their advice thru the months has led me to the paradise I hoped for in Costa Rica. Angela especially is an expert in all aspects of real estate and is a well know certified appraiser for the banks in Costa Rica. They referred me to an attorney who handled all my needs in obtaining all the documents I needed to live here. If you need any more info you can call me at 203-4028. Best time to call is afternoon or night since i spend my mornings in the pool at the condo.
Paul Avalone
former unhappy resident of New York City retired from the rat race at 56.
---
REPRINT FROM AM COSTARICA OCTOBER 30,2207 VOL 7, NO. 215
COSTA RICA'S ENGLISH ON LINE NEWSPAPER
An A.M. Costa Rica guest commentary

An experienced appraiser addresses issue of property value

By Angela Jiménez Rocha*
Special to A.M. Costa Rica

After 22 years of watching prices and preparing many thousands of appraisals for the banks here along with private clients, I am amazed at the increase in prices asked at the

Angela Jiménez Rocha

current time. However, the trend seems to be going up, and the construction costs from well known, reputable builders also have risen greatly.

If we consider the Central Valley, especially areas like Escazú and the newly hot area of Santa Ana, the price per square meter for nicely finished condos with amenities and security is $1,100 and up. For something

like a Trump Tower lookalike, the price is now $2,000 per square meter.

Today it is hard to find raw land for $100 in decent areas in the Central Valley, and many developments are asking $150 to $200 per square meter for land. One of the well known golf course communities was $50 meter 10 years ago and now $250- to $300. 10 years ago Santa Ana was a sleepy little town where land prices were $10 to $30 a meter. Today it is booming with new condo developments where land is $150 a meter.

We are owners of condos and also an adviser to Avalon, which is one of the great, new condo developments in Santa Ana. This developer has had such great success that people are standing in line to snap up any new project he has in advance of construction. For most of the new projects buyers are asked to put up 20 percent for pre-sale before construction starts. This is a risk unless the buyer checks carefully who the developer is and makes sure there is a fiduciary or bond to guarantee completion.

But why is the demand so great? Costa Rica really has become a boom area for much more than North American retirement and second-home buyers. The country is attracting Europeans like never before, and thousands of rich people from places like Venezuela. The prince of Saudi Arabia just flew in and announced that he is increasing his stake in Costa Rica where he already was major shareholder of the Four Seasons complex. Steve Case of AOL-Time Warner fame announced he was starting a new $800 million project. Famous hotel chains have been lining up from all over the world starting new projects.

The cold hard facts are 78 million baby boomers are going to retire soon, and Costa Rica is on the top of the list for those wanting to leave the States. There is simply not enough space any longer in the Central Valley to accommodate even 1 percent of these potential new arrivals.

What the new comer to Costa Rica needs to understand is that

there is a two tiered market here. Housing like you see in the States and the local Tico market. Zoning for all practical purposes does not exist here, and the only way to assure high-class neighbors is to pay high prices for land. Does that mean you cannot find a Tico-style house for $25,000. I appraise these every day for the Costa Rica housing bank which is guaranteed by the government. There are lots of them, but most Americans would never feel comfortable or secure living in these areas.

Buyers come in all shapes and sizes, and there are lots of people who think nothing of paying $500,000 and up for a house. But the local people see that as a television dream since the average wage is $500 month. Many Ticos are leaving the Central Valley to live in areas like Puriscal which is nice area but does not offer the services most North Americans are used to. Even here prices are moving up rapidly.

I have nothing against real estate agents, but my profession is strictly licensed and regulated by the goverment where real estate brokers are not required to have any license.

My advice to a buyer is to inspect and appraise carefully before buying. Real Estate agents are fine for locating property but usually have no expertise in all of the risks that exist here which are much differnt than the U. S. Just making sure of the road quality leading to a property is something most take for granted, but Costa Rica roads and bridges often fail and the authorities are often strapped for funds to repair these quickly.

A couple of weeks ago there was a photo of 100 meters of road that collapsed near the University of Peace in Ciudad Colón where several upscale projects are located. No one knows how long it will take to fix the road or if there are other problems about to surface.

We have a recent client who has upscale desires, and we inspected and appraised a terrific house in Escazú for $545,000, which we found worth the asking price. But when our attorney checked the documents he found a clouded title the seller forgot to explain.

Next the buyers asked us to inspect a six-bedroom, 500 meter condo with incredible views and an asking price of $990,000. Our appraisal came in at $712,000.

On the other side, we appraised a tract of beachfront land two years ago which was titled. Many such tracts are not titled but are granted through a local concession. The seller was offered $450,000 by one of the largest tourist operators here, and we appraised this property at $850,000. The seller sold it off our appraisal at around $1,200,000 and, as I understand, it is now on market for $2 million.


* Ms. Jiménez, an appraiser licensed by the Colegio Federado de Ingenieros y Architectos for the last 21 years, has conducted thousands of appraisals.
Return to Costa Rica Travel by Orbit
Copyright 1997 Orbit Travel Network Costa Rica. All Rights Reserved.